In Apex Legends, Ballistic is set to join the roster of 23 playable characters at the moment. A new face will join the battlefield with the upcoming season update! But is it really his first time? We'll show you everything you need to know about the experienced gunslinger Ballistic.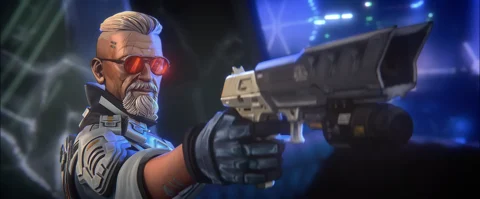 In the season 16 update of Apex Legends, many mandatory changes have been made to the Legend classes and a lot of the existing characters have been adjusted. But some players were missing a completely new, playable character, which is understandable since this is the most exciting part about a new update. Can Respawn redeem themselves with this upcoming season?
Apex Legends: Ballistic Is At It Again
Fortunately, Season 17 can make up for it, with a new Legend called Ballistic! Suspiciously, Respawn mistakenly posted a picture of the new character a few days ago. Since we already knew that there will be a new playable character for Season 17, the surprise was not too significant, but now we at least know who we can look forward to.
Ballistic's Lore
His real name however is August Brinkman, and he is by far no stranger to the Apex arena. In his younger years, he already competed in the Thunderdome and is now back to show "the next generation how it's done".
In need for a cool gift for an Apex lover? Since everyone loves Wraith, consider getting them her Heirloom Kunai as a little surprise!
But why exactly is he back on the battlefield?

In his character trailer, "Stories from the Outlands – Encore" we can get a pretty good feel of Ballistic's intentions and what makes him compete in the Thunderdome again.
In his former years, he was one of the most famous champions alongside his two comrades. The three of them fought many victorious battles together. His fighting style, however, was performative, self-centered, and dangerous, so it is no surprise that his actions had severe consequences. In a selfish decision, he risked the life of one of his friends and the trio fell apart.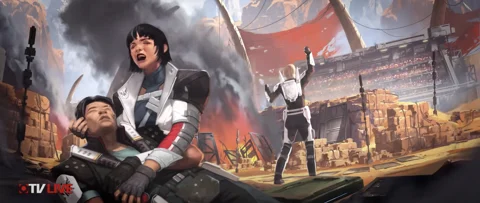 The crew member who died was his brother-in-law, which automatically ruined the relationship to the second member of the trio, who happens to be Ballistic's wife. After seeing her husband waving to the crowd instead of helping her, at this point dead, brother, Sok Leng Phua decided to leave him and take their son Nathaniel with her.
Years later, Brinkman's son decided to join the Apex battle, to the displeasure of his father, who saw the news on television. He quickly paid Octane's grandfather, Torres Silva, a visit, holding him at gunpoint to threaten him. Since Silva is the organizer of the Apex games, Ballistic submits the following ultimatum to him: He himself wants to join the battlefield and replace his son.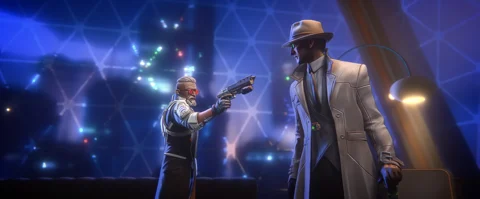 They seem to know each other quite well since Silva kept his calm in this rather dangerous situation, asking Ballistic: "And for this you want what, old friend?"
The ending sequence shows him heading back to the Apex arena with his son left behind.
You should check out the official trailer right here:
It looks like he is not in the mood to mess around.
Ballistic's Abilities
It seems like he has a pretty good arsenal of weapons, and it is to be expected that he will have a special weapon animation, just like Bangalore has with the C.A.R. SMG. Ballistic's role as the Apex Arms Dealer suits him really well, since he is part of the Assault class.
His final abilities are not confirmed just yet, but it seems to be quite close to what leakers found. His kit could look like this:
Ballistic's Passive Ability: "Weapon Sling" — Ballistic can carry a third weapon, although the third weapon cannot have attachments.
Ballistic's Tactical Ability: "Smart Bullet" — Ballistic can shoot an enemy with a "Smart Bullet", which will nerf their weapon and cause it to overheat.
Ballistic's Ultimate Ability: "Weapon Enhancer" — When activated, all nearby teammates receive faster reload speed, increased unarmed move speed, and infinite ammo. While Ballistic's sling weapon gets equipped and upgraded to Gold.
Do you like his kit and overall feel?
We are more than excited to see how one of the oldest Apex Legends makes his comeback in just a few weeks! Let's hope he learned from his mistakes…
If you are new to the Apex battleground, you should check out this guide to one of the most fun to play Legends the game has to offer!
This article contains affiliate links which are marked with [shopping symbol]. These links can provide a small commission for us under certain conditions. This never affects the products price for you.