Valkyrie, because she's so popular, is going to skip the queue and get her heirloom ahead of Legends who have been in the game longer but still don't have theirs. Here's what Valkyrie's Heirloom will look like, and a possible release date.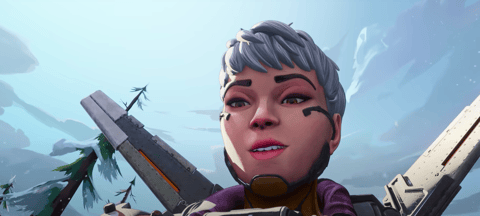 Heirlooms are the ultimate accessory in Apex Legends. These are small handheld items, unique to each Legend, that your character will equip in game when they're unarmed. They usually take the form of a pocket knife, or a small axe (you can read about the coolest ones ever released here), and they're so rare that most players don't have one, or only have one for their main. This is because you can't just buy them, you can only find them in Apex Packs, and the chance of finding one is 1 in 500.
At first, only a few Legends had their own Heirlooms, but they've been steadily making them for newer Legends, and now Valkyrie is getting her Heirloom. Here's the design of her Heirloom and a possible release date.

What Is Valkyrie's Heirloom?
Valkyrie's Heirloom is going to be an orange and white spear, with blue highlighting. It's not as "on-brand" as some other Legends and their Heirlooms, but it looks nice. Here it is, courtesy of leaker KralRindo:
It's ornamental and not as practical as you might expect for Valkyrie, but it's certainly going to look cool to pull out after a hot landing.
[Update June 14]
We received a new GIF of the Heirloom that you can check out below:
Valk Heirloom With Ramen. I hate you all. pic.twitter.com/lKFwyXcCdn

— GG Thordan Smash (@Thordansmash) June 14, 2022
[Original Article]

When Is Valkyrie's Heirloom Released?
Valkyrie's heirloom will be released during the Awakening Collections Event on June 21 at 10:00 PT (13:00 ET / 18:00 BST / 19:00 CEST). This has now been officially confirmed by Respawn.
We will, of course, keep you updated about any other Heirlooms or leaks we hear. Until then, you've got the rest of Season 13 to struggle through the new cripplingly difficult ranked system.