Battlefield 2042's beta, although delayed, is about to begin. It won't last long, though, so don't miss a second. Here is our rundown of every start time around the globe.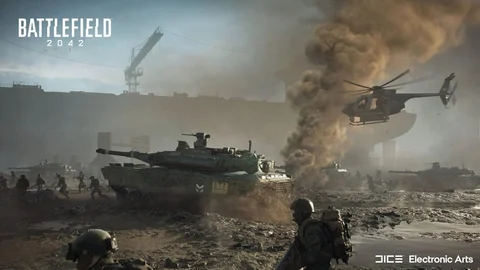 The Battlefield 2042 beta is now only a stone's throw away, and needless to say, we're hyped. Sure, there were some last-minute hiccups in development, and nobody loves the Specialist system, but we're still confident in this year's installment. We'll be particularly interested to see how well destruction and vehicles plays on the beefy new consoles. Anyway, let's get into the start times.
When Does The Battlefield 2042 Beta Start?
The Battlefield 2042 beta begins on October 6 for Early Access and on October 8 for everyone else at the following times around the globe:
00:00 PT

02:00 CDT
03:00 ET
08:00 BST
10:00 MSK
18:00 JST
The beta closes at the exact same time on October 10, so you do have a decent amount of time. Not as long as Vanguard, but enough to know whether you enjoy the core gameplay loop.
BF2042 has such a great hype around it already that we think this beta will largely be people praising the work and requesting an extension. Though, do expect negative feedback when it comes to Specialist balancing.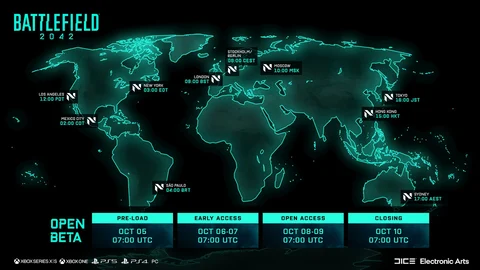 Like keeping up to speed with all things Battlefield? So do we. Here are a few recent stories in case you missed anything:
When Can You Pre-Load The Battlefield 2042 Beta?
The beta is available for everyone to pre-download - even those without early access - from 07:00 UTC (03:00 ET, 00:00 PT, 09:00 CEST). We don't know exactly how large the BF2042 beta will be on all platforms, but you should expect between 20-40 GB. Please don't forget to pre-download, the last thing we want is our readers unable to play on launch.

Which Battlefield mode are you most excited to play? Hazard Zone, Portal, or Multiplayer? Let us know on Facebook or Twitter, and don't forget - you should consider joining MyEarlyGame for loads of great giveaways, exclusive tourneys, and a customizable home page.