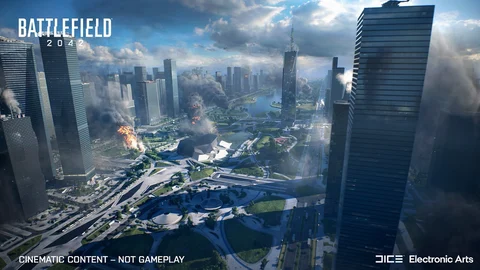 Battlefield 2042 is getting all the attention right now, and EA have just revealed even more news about this highly anticipated title. It's coming with well-designed AI to fill multiplayer lobbies. Good bots should serve a few other purposes too. We've got all the details below.
Move aside Call of Duty, it's Battlefield's time in the spotlight now. Battlefield 2042 has quickly become the darling of the shooter community, as we wait with bated breath for more info on this title. One of the game's much-improved features, as we found out recently, is going to be the use of impressive AI bots. Their behavior will reportedly be far more complex than we're used to, and it's perhaps because of this that EA were happy to announce they will fill multiplayer lobbies with them.
Why Would EA Fill Battlefield 2042 Lobbies With Bots?
Bots will help fill the 128 player maps, but they will also let players enjoy the game solo or co-op. It's actually really quite reasonable. Battlefield 2042 is going to be multiplayer only, and the maps are all massive. They need a system to ensure that each match can actually be enjoyed and avoid feeling empty - bots are a perfect solution.
Bots also allow players to enjoy the game without having to play against human enemies. That might not sound as exciting to some, but it should be hugely helpful for newer players who don't want to be stomped on every game while they're learning the mechanics.So for the sake of bringing new people into the game alone, it's worth having bots in Battlefield 2042.
This seems like nothing but good news for fans of Battlefield 2042. It's simply another feature, and the game is likely to be so popular that few of the multiplayer slots will be empty anyhow. Plus, who doesn't mind a few cheap extra kills to boost that k/d?
Like keeping up to speed with all things Battlefield 2042? So do we, here's a few of the new additions in case you missed anything:
What are you most excited about in Battlefield 2042? Let us know on Facebook or Twitter, and don't forget - you should consider joining MyEarlyGame+ for loads of great giveaways, exclusive tourneys, and a customizable home page.