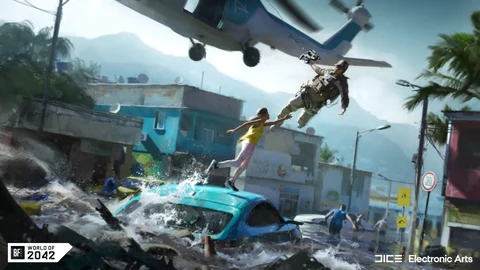 A massive Battlefield 2042 leak dropped earlier this year, with details from the Origin store. In a now-deleted Reddit post, we learned about how the Battlefield 2042 Battle Pass will work. We've since had even more information from EA themselves. Here are the Battle Pass details.
The Battlefield 2042 Battle Pass looks like it will be received warmly by fans. Battle Pass systems have gone done well in other games, and in this case, it seems like a particularly forgiving model. You have longer than normal to complete the Battle Pass and you're guaranteed more than just cosmetics.
Update: This article was originally based on information provided to us by a leaker, but we've since had official confirmation on many of the points. And we've learned additional information about the Battle Pass.
How Will The Battlefield 2042 Battle Pass Work?
EA intends to break the year up into 'seasons' of three months, each season will have a new Battle Pass and will provide a new Specialist class to join the starting ten. We've also learned that the Battlefield 2042 Ultimate Edition will come with the first Battlefield 2042 Battle Pass.
You can either pay for the Battle Pass or not, but either way playing during the season will progress you through 100 levels. There will be some free rewards along the way but for most of the 100 levels, you'll need the Battle Pass to claim the reward.
A Battlefield 2042 Battle Pass that lasts for three months would be quite generous, provided it comes with enough content to feel like the players are getting their money's worth. It would also give players a little longer than Call of Duty's Battle Pass, to actually complete every level. EA will need to make sure that they don't come off like they're nickel and diming the community though – they need to keep the Battlefield 2042 Battle Pass around 10 dollars.
If you like keeping up to date with all things Battlefield, then you've come to the right place, check out some of these other recent stories:

Are you as excited for Battlefield 2042 as we are? Think you'll be getting on the Battle Pass? Let us known on Facebook or Twitter, and don't forget to join MyEarlyGame today for a customizable news experience.