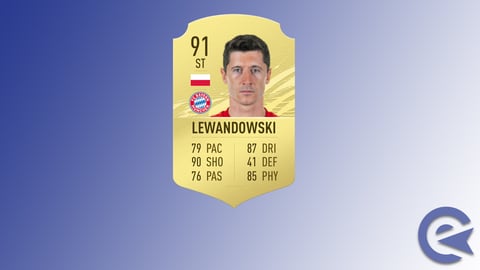 FIFA 21 ratings being out makes us want to create every list possible. We've already covered a lot of ground in that aim and today is just another part of it. We present the best FIFA 21 Bundesliga starting eleven!
Planning on smashing FIFA Ultimate Team in FIFA 21? Then you better know your ratings. We've gone through a lot of stats already, including the best eleven from the top two leagues in the world - the English Premier League and the Spanish la Liga. Today we take a look at European champions Bayern München's home league - the German Bundesliga.
The Best Bundesliga Team in FUT 21
GK: Manuel Neuer - 89 OVR (Bayern München)
LB: Alphonso Davies - 81 OVR (Bayern München)
CB: David Alaba - 84 OVR (Bayern München)
CB: Mats Hummels - 86 OVR (Borussia Dortmund)
RB: Thomas Meunier - 81 OVR (Borussia Dortmund)
LM: Leroy Sané - 85 OVR (Bayern München)
CM: Joshua Kimmich - 88 OVR (Bayern München)
CM: Thomas Müller - 86 OVR (Bayern München)
CM: Marco Reus - 85 OVR (Borussia Dortmund)
RM: Jadon Sancho - 87 OVR (Borussia Dortmund)
ST: Robert Lewandowski - 91 OVR (Bayern München)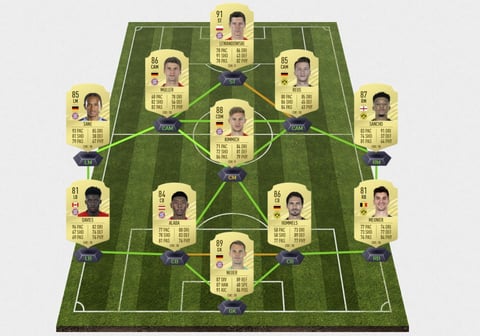 Is anybody really shocked that Bayern München have such an overwhelming presence in the Bundesliga team? They won their eighth Bundesliga in a row and added a Champions League trophy to boost. No one is touching Bayern in Germany and if you are looking into the German market for your FUT squad, the Bavarians should be the first place you look.
Borussia Dortmund are the only other team to make an appearance on this roster, which shows you why the Bundesliga can't make the step up to challenge La Liga and the Prem at international popularity levels.
Stay with EarlyGame for more quality FIFA content. You can also check our YouTube channel for some visuals if reading's not your main thing.