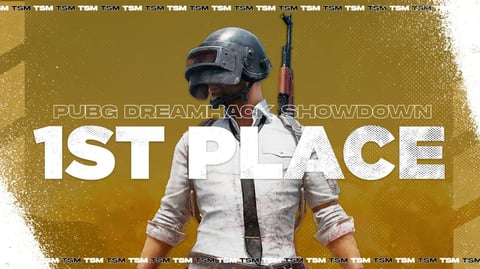 Zero to Hero – this or something of that sort could be said for the rise of TSM. The team was rather mediocre in PUBG but was then able to outdo even Team Liquid in a rapid catch-up race. Here come the champions of the PUBG DreamHack Spring Showdown!
At the beginning of the event, Team SoloMid were too busy with the last part of their name: Mid. They simply could not show more than mediocrity. They entered the playoffs as the eleventh team with just 11 points ahead of other rosters who were eliminated in the group stage. Three rounds followed where only four points were scored until the wind finally changed.
Suddenly, TSM seemed to have awakened from their DreamHack coma. Alex "vard" Couge finally secured some much-needed kills for his team and brought Team Solo Mid back into the game. From then on, things went steeply uphill.

15 kills in a row
On the final day, TSM opened the tournament with a 15-kill victory, shooting up the rankings. A chicken dinner followed with five kills.
MASSIVE FIRST GAME! #TSMPUBG absolutely smash the opening game with a 15 kill Chicken Dinner! #TSMWIN pic.twitter.com/fFKlI926FC

— TSM Report (@tsmreport) May 10, 2020
A total of 78 points were added to their tally in record time and TSM were suddenly neck-and-neck with Team Liquid. Anssi "mxey" Pekkonen and his team had no intention of leaving TSM wanting – and TSM seemed to be a little intimidated, at least for now. But again, it was vard who showed the true PUBG magic with his teammate Christopher "Fexx" Wheddon.
In the end, TSM won the competition with a 10-point lead over Team Liquid: 105 to 95 points. Vard alone gained 21 points for his team with his kills in the last game – from average to high flyer indeed. The team also celebrated the victory:
Won DHPS, pulled a comeback and got from 11th place to 1st on final day. Feels great to win our first title as @TSM Hopefully more to come with this sick lineup pic.twitter.com/DOR0GqHy5t

— TSM Iroh (@IrohFPS) May 10, 2020
Congratulations to Team SoloMid and to further victories! We are already looking forward to the next exciting matches. TSM, on the other hand, are planning ahead with Apex Legends as the team is organizing an Apex tournament on May 17.

Introducing the TSM Invitational: Apex Legends

05/17. 20 captains. $25,000 on the line.

Tag which content creators you want to see compete. pic.twitter.com/M6E4qAXEcI

— TSM (@TSM) May 10, 2020
If you like TSM and other esports teams, you can find out more about PUBG, Apex Legends, and other esports titles here, on EarlyGame.