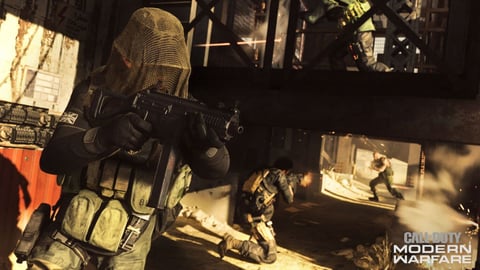 The huge Call of Duty: Modern Warfare Season 4 Reloaded update hit the shelves a few days back and was without a doubt the CoD event of the week, but Infinity Ward are not done with the patch notes. This smaller update splits a current playlist and fixes two more.
The Season 4 Reloaded Update brought some weapon changes, a new operator, a new map, the new Sniper Rytec AMR and much more. A more detailed analysis can be found here. This new update does nowhere near as much, but that's to be expected as it's coming a mere two days after Season 4 Reloaded.
A playlist update for #ModernWarfare is also deploying now across all platforms that:
- Removes the Shoot the Ship playlist
- Shipment (5v5) and Shoot House (8v8) are now separate playlists
Don't forget, our 2XP, 2WXP, and 2X Tiers weekend starts tomorrow at 10AM PDT!

— Infinity Ward (@InfinityWard) July 2, 2020
Shoot or Ship, which was added in the major update will be split in two. From now on Shipment 24/7 (5v5) and Shoot House 24/7 (8v8) will be made available instead. Additionally, Infinity Ward also announced the Double XP weekend, which begins this evening. Double XP, Weapon XP and Battle Pass XP for everyone!
A rarity in recent times: IW also felt the need to fix a couple of bugs with existing playlists. The Realism Moshpit Playlist now rotates between different game modes, as intended, and the CDL Playlist works correctly again after experiencing some issues.
A small patch is deploying now across all platforms that fixes two issues we've been tracking in #ModernWarfare: Thank you for your reports and feedback!
- Fix for the Realism Moshpit playlist not rotating modes
- Fix for the CDL playlist not functioning as intended

— Infinity Ward (@InfinityWard) July 2, 2020
Double XP weekend is the time to show the best of your abilities. Shipment in particular can be highly rewarding and you can use the XP gained to unlock the new Rytec AMR sniper. We're planning on going over the new gun in more detail soon, so keep an eye for that one.
Stay with us at EarlyGame for daily content on the world of Call of Duty.