The Automaton is a solid and reliable assault rifle in Call of Duty: Vanguard. With our setup guide, we'll show you how to get the most out of this sexy beast!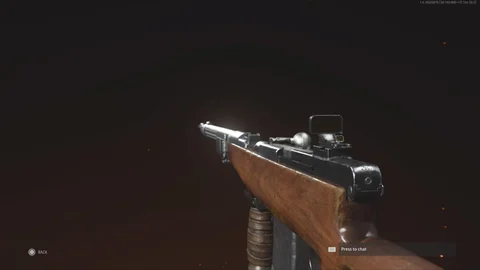 Call of Duty: Vanguardhas launched with a ton of classic WWII guns, but for every gun, we have an astonishing amount of attachments to choose from. Seriously, Vanguard offers ten attachments slots per weapon! Where do you even begin? Don't worry, we've got all the answers in our Vanguard weapon setup guides. And today: the Automaton.

The Automaton is a pretty solid Assault Rifle in Vanguard. It's immediately easy to use, and relatively versatile. Whilst we wouldn't call it Vanguard's strongest AR, and not in the running for meta just-yet, the Automaton is certainly not one of the game's weakest. Check out our tier ranking of every weapon in Vanguard for an idea of how well the Automaton places. In the meantime, let's talk setup...

The Automaton Attachment Setup
Muzzle: Recoil Booster
Barrel: ZAC 600MM BFA
Optic: Slate Reflector
Stock: Empress Broadsword
Underbarrel: M3 Ready Grip
Magazine: 8mm Klauser Rifle
Ammo Type: Subsonic
Rear Grip: Fabric Grip
Proficiency: Sleight of Hand
Kit: Fully Loaded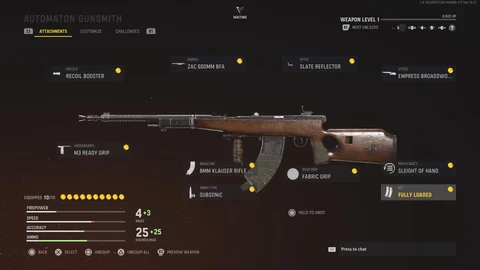 With ten attachments, we can do almost anything we want. With the Automaton, we need to compensate for that firepower and low ammo count. Thus, we have made a setup that increases firepower via a little, and greatly compensations for that low ammo-count with three additional mags and 25 additional rounds per mag. We're also giving ourselves a combination of speed, bullet velocity, and recoil control with these attachments. The Slate Reflector optic is optimal, as we're not going for range in this setup.
The Equipment & Perks On An Automaton Loadout
From what we've played so far, the meta loadout will look something like this:

Secondary Weapon: Machine Pistol
Lethal: Thermite
Tactical: Stuns
Perk 1: Ghost
Perk 2: Radar
Perk 3: Demolition
Field Upgrade: Armor Plates
The above will almost certainly be the multiplayer meta for an Automaton loadout unless they make serious balance changes. The Armor Plates in particular are in need of a nerf, but whether one comes... we'll have to wait and see.