The MP5, or Lachmann Sub, is the most comfortable SMG in Warzone 2, and it's our recommendation to players of all skill levels. And we don't just say that because of low-recoil, it also has a TTK that can compete with the meta. You can find the best loadout for the Lachmann Sub in Warzone 2 below.

Here we have the Lachmann Sub, or as you likely call it, the MP5. And for whatever reason Call of Duty devs love this gun. It's somewhat accurate to real life, as the MP5 has become the go-to choice for security forces around the world. But wow, almost every game the MP5 appears in it's the meta. And the same can be said of Warzone 2.
The Lachmann Sub has a great balance of mobility, handling and recoil control, and it has access to a 50-round drum mag. We can advise it to players of all skill-levels. You can find the best Lachmann Sub build for Warzone 2 beneath.
The Best Attachment Setup For The Lachmann Sub In Warzone 2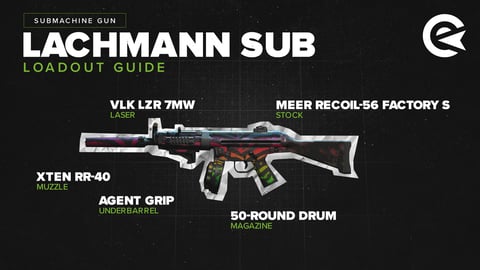 | | | | |
| --- | --- | --- | --- |
| Slot | Attachment | Unlock Requirements | Attachment Tuning |
| Muzzle | XTEN RR-40 | PDSW 528 to Level 13 | Aim Down Sight Speed (-0.90 oz) / Bullet Velocity (+0.70 in) |
| Laser | VLK LZR 7MW | STB 556 to Level 5 | Default |
| Stock | Meer Recoil-56 Factory S | Lachmann-762 to Level 4 | Aim Down Sight (-2.70 oz) / Aim Walking Speed (-1.70 in) |
| Magazine | 50-Round Drum | Lachmann-762 to Level 13 → Lachmann-556 to Level 12 → Lachmann Sub to Level 19 | Default |
| Underbarrel | Agent Grip | X12 to Level 12 → X13 Auto to Level 17 | Aim Down Sight (0.65 oz) / Aim Walking Speed (-0.25 in) |
We've built this MP5 as an easy-to-use weapon for all skill levels. For this reason all of our attachments will increase range and recoil control, except for the laser sight. But the laser can give us mobility without sacrificing any recoil. If you just don't like running lasers then exchange it for a 1x optic like the Slimline Pro.
You might be wondering why we didn't take no-stock. For most players the recoil penalty will just be too much with the no-stock, even on SMGs. Instead, the stock we've chosen will still increase sprint speed, but it also improves recoil.

The Best Loadout For The Lachmann Sub: Secondary, Perks & Equipment
Secondary: TAQ-56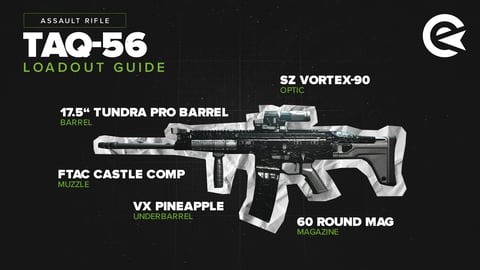 With an SMG you will, of course, need something for long-range. There's really only two serious options right now: the TAQ-56 and the RPK. But because we know most of you won't love the idea of an LMG, we chose the TAQ-56. This thing fries.
The build above is focused on long-range, but if you want something a little quicker replace the optic with a laser.
Perks (Base, Bonus & Ultimate)
Since we can no longer choose our own perks in Warzone 2.0, we have to choose one of the pre-made perk packages. Here is the best perk package in Warzone right now:
| | |
| --- | --- |
| Perk Package | Recon |
| Base Perk | Tracker, Double Time |
| Bonus Perk | Focus |
| Ultimate Perk | Birdseye |
Birdseye is like having a near-permanent Advanced UAV, which makes it by far the most valuable Ultimate Perk. And Recon is the only package that contains Birdseye, so it's a must-pick. Alongside Birdseye, you get Focus, which is good because it gives you a universal buff to stability while ADS'd. While both Tracker and Double Time are also great in Warzone.
Equipment (Lethal & Tactical)
For equipment choices we always offer aggressive suggestions to SMG users:
| | |
| --- | --- |
| Lethal | Throwing Knives |
| Tactical | Stims |
For players that love to get up close and personal Throwing Knives are a great way to guarantee the kill before you get traded. And alongside Throwing Knives, Stims are also a great option for aggressive players as they allow you to quickly reset.
If you're interested in other top-tier weapons, check out our complete tier list of every weapon in Warzone 2.

War Tracks are back! And if you love National Anthems, check out this event:

This article contains affiliate links which are marked with [shopping symbol]. These links can provide a small commission for us under certain conditions. This never affects the products price for you.