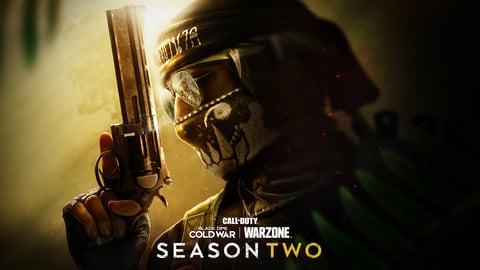 Black Ops Cold War Season 2 has started and brings a lot of content. Everything about the Season 2 patch and new weapons, new modes, and adjustments to individual multiplayer maps can be found here.
Season 2 has just gone live and my goodness, there hasn't been this much content in a long time! New maps, new weapons, new modes, new operators, and even long overdue adjustments to some old maps and League Play. What more could you want?
We've already covered the biggest additions in our Season 2 Roadmap article, so we'll just briefly list them here.
BOCW Season 2 Patch Notes
We list the most important new features here, the complete patch notes can be found at Treyarch.
Multiplayer
Okay, so the most important first:
New weapons
The FARA 83 assault rifle will be unlocked at level 15 of the Season 2 Battle Pass.
The LC10 submachine gun will unlock at level 31 of the Battle Pass.
The Machete will be unlocked via a challenge.
The E-Tool will be added during Season 2.
The R1 Shadowrunner Crossbow will be added over the course of Season 2.
The ZRG 20mm Sniper Rifle will be added over the course of Season 2.
New Operators
Naga (in the Battle Pass)
Maxis (in the course of the Season)
Wolf (during the season)
Rivas (in the course of the season)
CoD: Top 5 Warzone Weapons before Black Ops Cold War
View gallery
New Maps
Apocalypse (6v6)
Golova (multi-team for Outbreak mode)
Mansion (2v2/3v3 Gunfight)
Miami Strike (6v6, smaller version of Miami)
Map Adjustments
On Cartel, the bushes have finally been trimmed.
On Crossroads Strike, character visibility has been improved and some cover has been adjusted.
Moscow has been made a bit smaller overall.
On Raid, a control zone was reduced in size.
In addition to Season Two's new maps, the MP team has made design updates to several of our 6v6 maps based on player feedback:

* Cartel
* Crossroads Strike
* Moscow
* Satellite
* Raid
* Express

See before & after screenshots here: https://t.co/k2Sxs41m28 pic.twitter.com/66K1v9dDWd

— Treyarch Studios (@Treyarch) February 24, 2021
New Modes
Gun Game comes to CoD. We play through a total of 20 weapons until the final knife kill.
Stockpile, a mix of Kill Confirmed and Hardpoint, is coming later in the season.
Hardpoint Multiteam lets 10 teams compete in Hardpoint mode. Also coming in the course of the season.
Scorestreaks
With the Deathmachine comes the Minigun as a new Scorestreak.
The necessary points for Air Patrol, Attack Helicopter and VTOL have been reduced, those for Counter Spyplane have been increased.
League Play
The score for Scorestreaks is reset on death.
Only Artillery and Cruise Missile is now available, at slightly reduced requirements.
Zombies Camos also available in League Play.
By the way, you can find everything about League Play in our updated guide here: How League Play Works in BOCW: All Divisions, Ranks & Rewards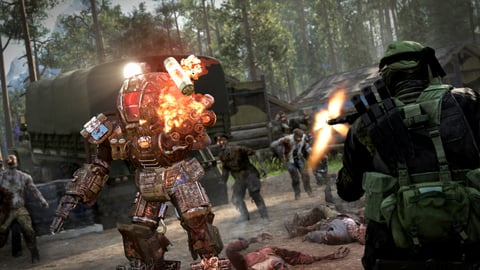 Zombies
Outbreak is finally here! It's a huge Zombie mode, where we are put in squads of four, dropped on a large-scale map full of zombies, and have to complete challenges!
In the Outbreak event, all players, including Warzone players, can play the new mode until March 11.
New skill levels IV and V are available for all skills.
New field upgrade Frenzied Guard. This causes all enemies to focus on the user.
Various bug fixes for Firebase Z.
Various bug fixes for Dead Ops Arcade 3.
Playlist Update
Today is Thursday, so of course there is a new playlist update. The new playlists for multiplayer are:
Apocalypse 24/7
Gun Game
Gunfight Blueprints (with new blueprints)
In Zombies mode there are also new playlists:
Outbreak
Dead Ops Arcade: First Person
Onslaught Apocalypse (PS4/PS5 only)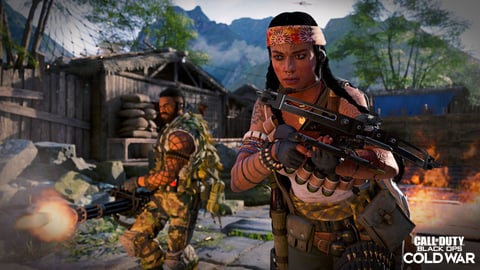 Phew, made it! There hasn't been this much content in a long time. If you don't have Black Ops Cold War yet, and want to take a look, you can do so now during the Free Access Week. Jeez-Magee!
READ MORE:
Check out MyEarlyGame for a free and customizable EarlyGame experience. Get engaged on Twitter and Facebook, and remember to check out our YouTube channel!
Original article by EarlyGame's Lukas Ballat.