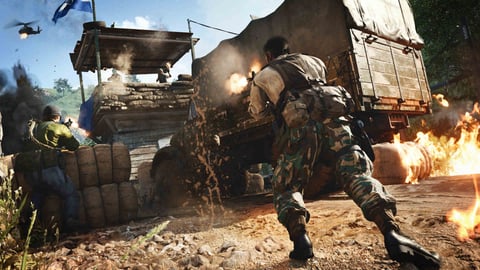 Activision Blizzard recently commented on the integration of Black Ops Cold War into Warzone. We can probably expect this to be ready for the start of Season 1 in December.
During Activision's Q3 report, new numbers were announced as well as when Black Ops Cold War and Warzone will be combined. During the report, it was mentioned that the entire Call of Duty franchise on console, PC, and mobile currently attracts over 100 million players per month.
With expansion across PC, console, and mobile, @CallofDuty engages and connects more than 100 million monthly players. pic.twitter.com/rJsITYwJRT

— Activision Blizzard (@ATVI_AB) October 29, 2020
In addition, the company's revenues from micro-transactions in all current CoD stocks increased fourfold from last year to a total of $1.2 billion between July and August 2020.
When Will BOCW Join Warzone?
It has been known for some time that Warzone will continue to be supported and will remain active across several "Call of Duty" titles. What we didn't know yet is when and how the next title Black Ops Cold War will be integrated into Warzone. Now we have some answers. President and Chief Operating Officer of Activision Blizzard Daniel I. Alegre commented:
Black Ops Cold War's in-game content will be centered around the same in-game system that resonated so well with players in Modern Warfare. And starting with the first season of in-game content in December, Black Ops Cold War will be integrated into Warzone. We'll bring Black Ops Cold War's characters and weaponry into the free-to-play experience along with substantial new content, ensuring that Warzone remains both a terrific experience and a powerful on-ramp for the franchise's premium content.
According to Alegre, the integration of Black Ops Cold War into Warzone will take place in December, along with the launch of Season 1 of BOCW. In addition, it was announced that monetization will continue in the same way as in Modern Warfare. There will be a new Battle Pass on a regular basis with free and premium content and in all likelihood bundles with new weapon blueprints, operators, and other cosmetics.
Rarest Call of Duty: Modern Warfare and Warzone Operator Skins

View gallery
We are still wondering how exactly the integration of BOCW into Warzone will look like, after all the two games run on different engines and play in completely different timelines. Obviously, you should be able to use operators and weapons from Black Ops in Warzone as well, but in our opinion, this would definitely lead to balance problems. It'll probably look very strange too because of the different sounds, animations, and the Black Ops weapon feeling. Oh well, what else can we do but wait and see.
Are you looking forward to Black Ops Cold War coming to Warzone or would you rather have Warzone as a completely independent game? Tell us on our Facebook page!
For more Call of Duty new and everything else gaming and esports check EarlyGame or the EarlyGame Youtube channel.
Original article by EarlyGame's Lukas Ballat.