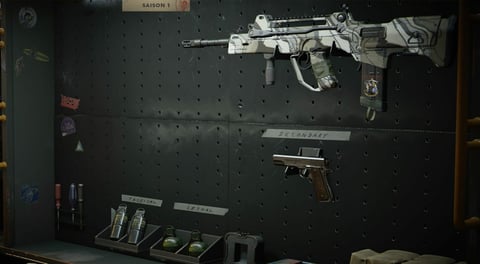 We're slowly working our way through all the weapons in Call of Duty: Black Ops Cold War to bring you the best setups for each weapon. This time we're talking about the fastest assault rifle in the game, which has already been nerfed and buffed: the FFAR 1.
Season 1 in Black Ops Cold War made all BOCW weapons available in Warzone. If you have just joined the BOCW bandwagon or are looking for the new best weapon in Warzone, you have come to the right place.
The FFAR 1 is only unlocked at level 40 and was initially, together with the MP5, the undisputed champion in BOCW. After the weapon was nerfed and its recoil was increased significantly, its use dropped like a stone – in Multiplayer that is.In Warzone the FFAR 1 still shreds like nothing else. The FFAR 1-Meta was in fact so strong, that Raven Software had to nerf the gun several times.
The FFAR 1 is characterized by an extremely high rate of fire that can keep up with most SMGs. This comes at the cost of damage and accuracy, but at short and medium ranges, this assault rifle is exactly what you need to smoke the competition.
FFAR 1 Setup
In order to get the best out of the FFAR 1, the wild recoil must be brought under control:
Muzzle: SOCOM Eliminator
Barrel: 19.5" Reinforced Heavy
Underbarrel: Field Agent Grip
Magazine: Salvo 44-round magazine
Handle: Airborne Elastic Wrap
With this muzzle we get 85% muzzle flash shielding and, more importantly, 17% vertical recoil control. The field agent grip reduces vertical recoil by another 6% and horizontal recoil by 20%. This already gives us a much easier weapon to control. With the 19.5" heavy reinforced barrel we increase the range by 100% and the projectile acceleration by 40%.
Since we have an extremely high fire rate with the FFAR 1, the magazine is empty very quickly, which is why it is essential to pack a larger one. With the Salvo 44-round magazine we not only reload 35% faster, but also have 75% more bullets in the magazine and also carry 75% more ammunition overall. Unfortunately, the magazine increases our time to aim by 25%, but we compensate for this with the airborne elastic wrap, which goes 30% in the opposite direction.
With this setup, you have a very strong weapon at short and medium distances that can easily compete with most SMGs. Not nearly as viable at long range though, so you might want to pack a sniper as well to take care of that matter.
Stay with EarlyGame for more quality Call of Duty content. You can also check our YouTube channel for some visuals if reading's not your main thing.
Original article by EarlyGame's Lukas Ballat.