Playing Fantasy is one of the best ways to make watching the CDL even more enjoyable (or anxiety-inducing). Here is a guide on how to submit your Fantasy team, as well as some advice on how to choose between players, and our own recommendations.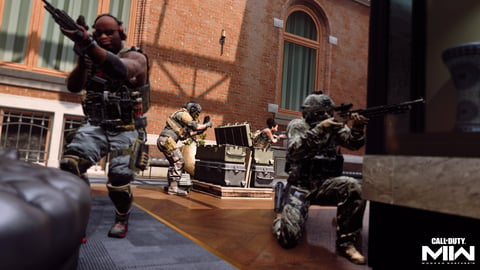 If you're a fan of the CDL, and you've been enjoying the 2023 Season (and all its roster drama) you should play Breaking Point's Fantasy Team. The game is quite simple, you pick four players to make a hypothetical team before each major, and your team will accrue points based on the real-life performances of the actual players. But you can't just pick the best players, obviously. Instead, you have a budget of $25 to spend, and a value is assigned to each player depending on how good they've been recently (Cellium is always $10, as the most expensive player in the League, while most other players hover around $4-7).
In this article we're going to explain how to submit your Fantasy Team ahead of Major 2, as well as our suggestions for some good players to pick. It's a great bit of fun, and we're always happy to support Breaking Point.
How To Submit Your Fantasy Team For The CDL
It's easy to get into CDL Fantasy Team, just follow these steps:
Create an account at breakingpoint.gg (don't worry, it's mercifully quick and doesn't require 2FA, just an email address, a username, and a password).
Once you're signed in, go to the Fantasy page on breakingpoint.gg
Pick your four players from the dropdown boxes (the total value of your team has to be less than $25), and then click "Submit Your Team" at the bottom.
Done!
See, we told you it was easy. And if you have the most successful Fantasy Team out of all participants, Breaking Point will reach out to you about the prize.
Will Scump make it on to your Fantasy Team?
Which Players Should You Pick For A CDL Fantasy Team?
The game isn't random, and there are some good basic rules we can follow to guarantee a high-scoring team. But before we get too deep into our picks, It's really helpful to take a look at the previous Fantasy scores assigned to each player.
As we can see from the top 10 players from Major 1, you don't necessarily need players with the highest K/Ds or even players that went on to the final (Afro scored over 500 despite Minnesota going out T8 at Major 1). We don't even need guys that play the OBJ particularly hard. What clearly links the highest scoring players in Fantasy is their pace and constant impact.
All the highest scoring players get into lots of engagements, and even if they die a lot, they're doing a lot of damage per 10 minutes. So, we know what kind of players we want: high-impact players that are on teams at least good enough to make it to T8.
But we can't just buy all the players with the highest average engagements, it would cost far too much. The real trick with Fantasy is to pick players who underperformed during the previous Major, and are therefore artificially cheap, but who you expect to have a big comeback at the next Major. So the best possible Fantasy pick would be a high-impact player like Abezy, who had a terrible previous Major due to something out of their control like an injury. As a rule of thumb we like to pick three players like that, and then spend whatever money we have leftover on a really consistent player, to hedge our bets.
Our Fantasy Picks For Major 2
There are some fascinating options this Major as we have some brand-new players in the league that are currently very cheap. JoeDeceives, for instance, is only $4, but there's been a lot of hype around this guy suggesting he might come on to the scene and start absolutely frying. But... we've also seen a lot of newcomers get nervous at their first event (let's not forget this guy is only 18, he's actually younger than Call of Duty 1). So what should you do? With our picks we aren't going to play it super risky, so we won't pick anyone from LAG or London who is in this situation, instead we've chosen the following players.
Pick 1: Shotzzy ($5)
Shotzzy is an absolute bargain at this price. The only reason he is so low is that OpTic did historically poorly in Major 1. But this is Shotzzy we're talking about, we all know he has the skill ceiling to be an MVP at one of the Majors, and his playstyle is naturally high-impact. Now you might be worried about how Huke and him are going to mesh, but we're quietly confident that the reuniting of XEO will help OpTic get a T6 finish, at least.
Pick 2: Kenny ($5)

We're far less confident about this pick, as LAT simply aren't the most-talented slayers. But they won the World Championship less than half a year ago, and we know they've been grinding. And if LAT can put it together on LAN, Kenny should be scoring a lot of points, especially since his playstyle will get him into the action more often than his duo Envoy. Even if they don't do amazingly well, the co-ordination of LAT gives them a high floor, and should guarantee T8 at least, so this won't be a terrible pick for only $5.

Pick 3: CleanX ($7)
Toronto actually did really well at the last major, and that's why we need to spend a little more on CleanX for $7. But whereas in the last major it was Standy who was frying and now costs $9, we expect CleanX to bounce back. CleanX and Insight are good adapters to each game, and we expect their performance to improve in MW2 each Major.
Pick 4: Simp ($8)
Our final pick is one of the greatest CoD players to ever do it: FaZe Simp. We won't waste your time talking about the skill-ceiling this guy has, we've all seen him be godlike. But he's "only" $8 right now because during the last major, he was being more of a dirty-worker, allowing Cellium to be flashy. This didn't work (well, in the context of FaZe it didn't work, most teams would be happy with 3rd) and so we expect Crowder to have adjusted the structure of the team slightly. Obviously there's a lot of guess work, but we're predicting the team will begin playing around Simp again more often. If this is the case, and his teammates do what they need to allow him to "go rogue" Simp could easily score the most Fantasy points of any player in the league.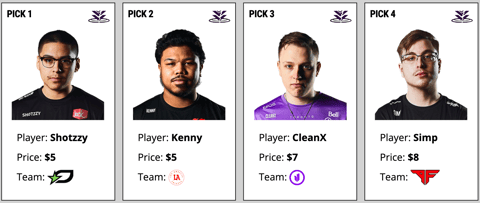 And that was our Fantasy Team, we hope you're able to get your own team submitted easily enough, and we wish you luck!

This article contains affiliate links which are marked with [shopping symbol]. These links can provide a small commission for us under certain conditions. This never affects the products price for you.