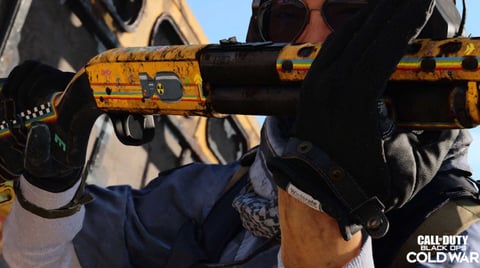 A new weapon bundle is available now in Black Ops Cold War, Treyarch has announced. The Nuketown Weapon bundle is free to everyone who plays the game online up until 10 a.m. PT on November 20.
The new bundle precedes the release of the new Nuketown '84 map due to drop on November 24, and it certainly adds to the hype! Cold War's latest iteration of the famous Nuketown, a series staple since the original CoD Black Ops back in 2010, certainly deserves the treatment of a king, and with this bundle like this, that's exactly what it's getting!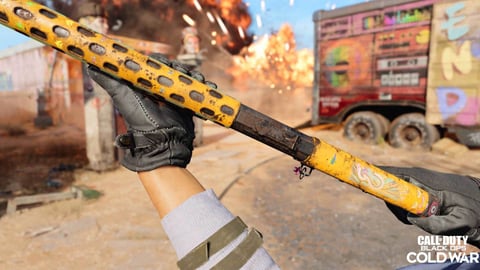 Nuketown Weapon Bundle Contents
The Nuketown Weapon bundle includes a 10-item selection featuring a shotgun weapon blueprint that has us all on our toes, itching to blow away some mates with a whole lot of rustic charm! In total, the bundle includes the following:
'Last Stop' Shotgun Blueprint – configuration includes 21.6" Paratrooper Barrel, a 6 RND Tube Magazine, a Milstop Reflex Optic, and a Commando Assembly Stock. But what makes this shotfun so awesome (apart from its super cool paintjob)? Fast fire rate, better range, more ammo capacity, quicker speed, and a clearer sight picture – what more could we ask for?
Six weapon charms – give your weapons a fabulous personality!
'Test Subjects' Sticker – ornament your weapons with this cool new sticker.
'Nuketown Legend' Emblem and 'Omnibus' Calling Card – Oh, now you're just showing off.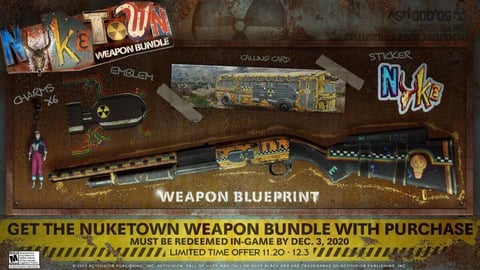 The bundle was announced on Twitter, along with an official CoD Blog post on November 19. Note that it is separate from the map, just an exciting addition in the lead up to its launch! It has been confirmed to be available in the next evolution of Warzone when Season One launches on December 10.
Get the NUKETOWN Weapon Bundle in #BlackOpsColdWar for free!

Everyone who played the game online between launch day and tomorrow will get free; the bundle will be included with the game through December 4

INFO: https://t.co/E4TfCJExPE pic.twitter.com/VJ4kOEwFQR

— Call of Duty News (@charlieINTEL) November 19, 2020
How Do You Get the Nuketown Bundle?
Call of Duty: Black Ops Cold War's new Nuketown Weapon bundle is meant as a thank you from the team at Treyarch and Activision, to all who have purchased and logged into the game from launch until November 20. All eligible players will automatically receive the Nuketown Weapon bundle, so if you don't have Cold War yet, you don't have much time!
READ MORE:
If you are unable to purchase the game, install and play by this date, then don't fret! Every Cold War purchase will include the bundle until December 4 at 2 a.m. PT. With Black Friday coming up soon, we think this is perhaps an insensitive to get players into Black Ops Cold War over the next couple of weeks. But hey, who doesn't like free s#!t???
For more on Call of Duty: Cold War, including weapons guides, deep-dives, and news, stick to EarlyGame! Does this new drop make you even keener to get your hand on Cold War? Let us know on Facebook or Twitter.