Call of Duty: Vanguard launches with a ton of classic WWII guns. But for every gun, we have an astonishing amount of attachments to choose from, and we can use ten at once. So, where do you even begin? What attachments do you need? Don't worry, we'll give you all the answers in our Vanguard weapon setup guides. And today: the Machine Pistol.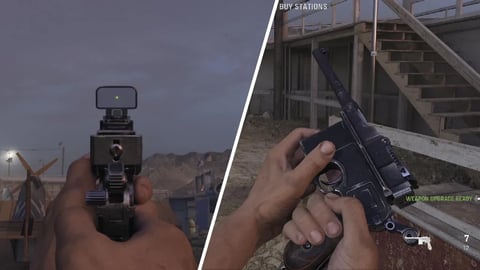 The Machine Pistol was probably the most fun weapon to level throughout the whole beta, and it still is. It was a real surprise, well, we always thought it was decent but then we unlocked the 40 round mags. Wow. That single attachment transforms this from a good sidearm to a ludicrously viable pocket-SMG. It has a TTK to challenge any of the close-range primary weapons in the game, and yet it gives you this extraordinary mobility – an absolute pleasure to use.

Check out our tier ranking of every weapon in Vanguard for an idea of how well the weapon places. Needless to say, it's high enough that we think this makes a solid choice for any player to start leveling.

The Machine Pistol Attachment Setup
Muzzle: M1929 Silencer
Barrel: VDD 140MM HE
Optic: Slate Reflector
Trigger Action: Rapid
Magazine: 7.62 Gorenko 40 Round Mags
Ammo Type: Lengthened
Rear Grip: Fabric Grip
Proficiency: Panic
Kit: Fully Loaded
With this setup the Machine Pistol is the perfect sidearm. It doesn't need Overkill to be equipped and shreds just like any primary weapon. Trust us, it's hands down the beste secondary weapon in Vanguard.
The Equipment & Perks On A Machine Pistol Loadout
From what we've played so far, the meta loadout will look something like this:

Secondary Weapon: MP-40
Lethal: Thermite
Tactical: Stuns
Perk 1: Ghost
Perk 2: Radar
Perk 3: Double Time
Field Upgrade: Armour Plates
The above will almost certainly be the multiplayer meta for a Machine Pistol loadout unless they make serious balance changes. The Armour Plates in particular are in need of a nerf, but whether one comes... we'll have to wait and see.