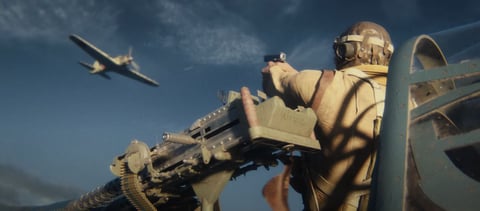 Call of Duty: Vanguard's multiplayer will be officially revealed next week. We've just had the alpha playtest weekend, and so the community knows already what to keep their eyes peeled for. Here are the details.
We wanted to put out a reminder for our audience to jot this one down in their calendars. Next week, the multiplayer will be revealed for CoD: Vanguard and we're already hugely excited, who knows, we might even see the return of War? But we're not sure yet what form the reveal will take.
When Is The Call of Duty: Vanguard Multiplayer Reveal?
Call of Duty: Vanguard will reveal the multiplayer next Tuesday, September 7. The trailer will almost certainly go live via their Twitter linking to their YouTube first, but we might be in luck with some in-game Warzone marketing for the event. You can find the official info beneath: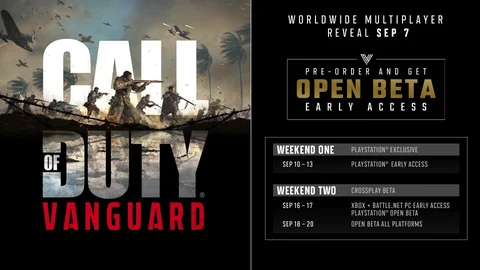 You can see here that they're continuing the practice of pre-ordering for early access, which so many have critiqued. But our own impatience is much to blame, and we shouldn't expect companies to abandon the practice anytime soon.
Like keeping up to speed with all things Call of Duty? Then you've come to the right place, here are some of our recent articles:

What Should We Look Out For In The CoD: Multiplayer Reveal?
The community will likely be focused on ADS times, TTKs, and visibility issues if we see actual gameplay. But if it is just a cinematic trailer, then we'll be focused more on what weapons and vehicles we see, and what new map they choose to show - after the alpha, fans are desperate to see a more vibrant environment in this engine.
Sledgehammer are probably looking to win back some attention with this event. If that's the case, then you might see them pull the nostalgia card, and one mode springs to mind from the last CoD: WWII game. The return of 'War' would undoubtedly make the Call of Duty: Vanguard multiplayer reveal more of an event. But we'll all have to wait until next Tuesday to find out.
What do you want to see most from this reveal? Let us know on Facebook or Twitter, and remember, you should consider joining MyEarlyGame today for exclusive tourneys and loads of great giveaways!