We all remember the Haunting of Verdansk last year, well the Haunting returns this year - expect darkness to fall, Zombies to rise, and sweats to get tilted. Yep, it's the Warzone Halloween event!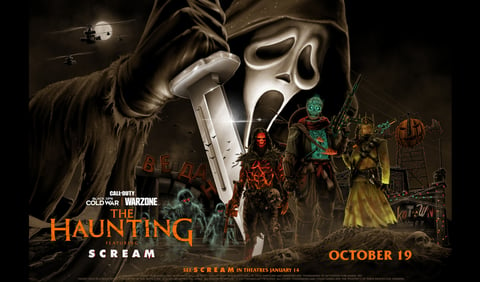 We all remember "The Haunting of Verdansk", right? If you couldn't make it on last year, or if you've started playing more recently, then allow us to bring you up to speed. This is Warzone's Halloween event - we play a nighttime version of Verdansk, zombies get involved, and there's a ton of jump-scare surprises scattered around the map.
It was hugely popular in 2020, and now it's back in 2021. Here's a complete guide on the event: what time The Haunting Halloween event starts, what kind of game mode you can expect, and what new items they bring to the shop. But first, and to get you in the spooky mood, here's the trailer:
Fight fear with fire. #TheHaunting arrives tomorrow in #BlackOpsColdWar and #Warzone. @ScreamMovies #ScreamMovie pic.twitter.com/c9V6rPF0ek

— Call of Duty (@CallofDuty) October 18, 2021
When Does The Haunting Begin?
The Haunting begins on October 19 at approximately 13:00 ET (10:00 PT, 18:00 BST, 19:00 CEST). And because this is an event they've put lots of resources into, you can expect them to prolong it for two weeks until November 2. They did the same with the 80s Action Heroes event, it just gives everyone time to try, and this way, the Haunting will still be live for the actual day of Halloween.
The Halloween Game Mode - Ghosts Of Verdansk
Ghosts of Verdansk is the in-game name for the new mode you will be able to play in Warzone over the course of this event. And here are the rules:
Death & Becoming A Ghost
In this mode, death won't send you to the Gulag. Instead, Operators become Ghosts after being eliminated for the first time.
Ghosts have no weapons, but they have some supernatural abilities:

Super Jump: Similar to the jump from Zombie Royale, Ghosts can charge up and "leap" through the air to cover serious ground. Because Ghosts have no body, their light weight allows them to float and glide following a jump or a drop from any high distance.
Teleport: Another movement option, albeit with a slower cooldown, Ghosts can teleport a short distance to help immediately close gaps between them and living Operators. They can even teleport right through them and appear behind their would-be target.
Spectral Blast: This area-of-effect stun attack slows down Operators and disables vehicles.
In terms of dealing damage, Ghosts can only melee Operators until they are dead, at which point they'll drop a soul. For the low price of three souls, a Ghost can immediately spawn back in as their original Operator, dropping in from above after the soul exchange occurs.
A Ghost can respawn one other way: with a horrifying Finishing Move. Performing this move will keep the soul so pure and intact, it will result in an automatic respawn... just beware that the move can be interrupted.
All players outside of squadmates can be attacked by Ghosts, but they do have a safe space to take solace in: Sacred Ground.
Marked by a glowing blue circle and beam of light, as well as an icon on the mini-map, these areas are protected by supernatural magic that prevents Ghosts from crossing over. However, Ghosts can damage the area by throwing their spectral bodies at it, and if they ram themselves into it enough times, they can destroy that plot of Sacred Ground.

The New Fear Mechanic
Ghosts of Verdansk also introduces a new meter known as Fear, located on the bottom left portion of the HUD. This meter ranges from 0 to 100 points, and every Operator starts as a fearless warrior with zero points of Fear.
Should that meter reach 50%, your Operator may start to experience hallucinations that can mess with your mind. Overcome them, and you'll hear a short piece of music and heavy breathing, followed by a drop in your Fear level.
If the meter reaches 100%... well, that's up to you to find out.
Fear increases naturally over time and when the following events happen:

Being shot at, being hit by enemy Equipment, or having their Killstreaks in the area
Camping (AKA cowardice)
Seeing dead bodies or Ghosts
Having squadmates downed or eliminated
Outside of experiencing a hallucination, Fear also decreases when the following happens:

Eliminating a player or Ghost
Reviving a squadmates
Completing a Contract
Remaining within Sacred Ground… so long as it stays intact
Keep your fear in check and ensure one of your squadmates is left as an Operator to win Ghosts of Verdansk, which is one of the key challenges needed to unlock the LAPA through the Warzone challenge set.
The Haunting Event Challenges & The LAPA SMG
During The Haunting event, there will be two sets of nine challenges — one for Warzone and one for Black Ops Cold War — with 19 items, such as Weapon Blueprints, to earn. In addition to rewards earned for completing each challenge, The Haunting offers a major bonus reward for finishing all nine challenges in either game: the LAPA SMG.

This ranged prototype will test your opponents from a distance. Its attachments leave plenty of room for investigation on how it can fit into the meta, but on its own, it is a high-damage but slow-firing SMG with solid control and range.
Halloween Operator Bundles - All 2400CP ($19.99)
Scream Operator Bundle - Available Now
It's Ghostface in Warzone. He's a standalone Operator who can carve up any hapless soul — living, dead, or undead — across Multiplayer, Zombies, and Battle Royale.

In addition to the Ghostface Operator, this bundle comes with the iconic "Violent End" Finishing Move, which can be performed by all Operators, including Ghostface; the "Cordless Phone" Weapon Charm; the "Scary Hours" Watch; an animated Emblem and Calling Card; and three Legendary Weapon Blueprints.

The two ranged Weapon Blueprints come with Tracer Fire, and of course, there's the "Ghost Blade," where you can truly become the infamous killer with a knife modeled after Ghostface's signature weapon.
Tracer Pack: Donnie Darko - Available October 24
The countdown to the end of the world has begun, and the "Frank the Rabbit" Operator Skin, included within this Bundle for Baker, is here to celebrate. With this new Skin comes a Finishing Move that fans of the film will know too well, almost as if it was a premonition of what's to come…

We are, of course, talking about the "Sky is Falling" Finishing Move, where any Operator — including Baker as Frank the Rabbit — can cause an unfortunate accident for anyone caught with their back exposed.

This bundle also includes four Epic-rarity items — a Weapon Charm, a Calling Card, an Emblem, and a Watch. You'll also get three Legendary Weapon Blueprints — one Sniper Rifle, one SMG, and one Assault Rifle. All of these Weapon Blueprints come with Purple Electric Tracer Fire and other shocking effects that may be useful in getting into your enemy's head…

Tracer Pack: Necro Queen Reactive Mastercraft - Available Week Of Halloween
Featuring the "Necro Queen" Operator Skin for Portnova, as well as a Reactive Mastercraft "Void Monster" AK-47 Blueprint, this bundle could help you rule life, death, and the space between.

Tracer Pack: Disciple of Mayhem Ultra Bundle - Available Week Of Halloween
Next is the Tracer Pack: Disciple of Mayhem Ultra Bundle, which comes with an Operator Mission that unlocks COD Points and an Ultra-rarity Operator Skin Variant once completed.
The star of this bundle is Weaver's Ultra-rarity "Disciple of Mayhem" Skin, which is inspired by the terrifying Disciple from Zombies. Although the robes don't give you the power to steal life force from enemies, they do look great when performing the "Repairs with Klaus" Finishing Move or when using the three included Legendary Weapon Blueprints. Perhaps best of all, this bundle includes the wise-cracking Klaus from "Mauer der Toten" as a new lobby companion.

Tracer Pack: Lumens Maxis Ultra Bundle - Available Week Of Halloween
Then on Halloween, the Tracer Pack: Lumens Maxis Ultra Bundle will light up the night — and day — with an Ultra-rarity "Lumens" Skin for Maxis and three Legendary Weapon Blueprints with bright electric Tracer Fire.

If that isn't enough content for you to enjoy before Vanguard, then frankly, I feel sorry for the devs. This looks awesome, and we're excited to get into it. But which operator to spend the CP on...
Is the CWAK the best AR in Warzone still? Let us know on Facebook or Twitter, and remember, you should consider joining MyEarlyGame today for exclusive tourneys and loads of great giveaways!