Even for Call of Duty, the Helm of Darkness blueprint is ridiculously over-the-top. And we love it. Here's how to unlock the Helm of Darkness, and what the bundle includes.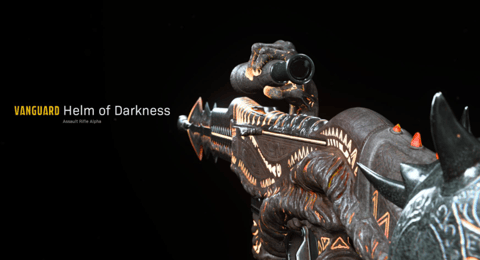 Everyone's talking about the first series of Mastercraft bundles to come out for CoD: Vanguard. One of them is called the Fire Starter bundle and contains the Helm of Darkness blueprint for the STG. It's basically a tribal/fire themed skin (pictured above).
Mastercraft bundles provide the rarest and most expensive skins in Warzone, and this is a meta weapon, so yeah, people are excited about the Helm of Darkness. Here's a quick guide on how to unlock the blueprint, plus our advice on whether it's worth it.
How Do You Unlock The Helm of Darkness Blueprint?
You have to buy the Fire Starter Mastercraft Bundle for 2400 CP ($20) to unlock the Helm of Darkness blueprint. That's it, there is no workaround, or free way to access the Helm of Darkness.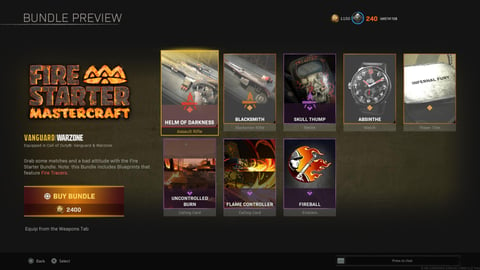 Personally, the other items are very poor in the bundle, so it wouldn't be one for us, but different strokes for different folks.
Is The Helm of Darkness Blueprint Worth It?
No, not unless this skin is really awesome to you. Long story short, the other items in the bundle are meh at best, and this STG has none of the meta attachments you need. Instead, you get fairly poor attachments...
| | |
| --- | --- |
| Component | Attachment |
| Muzzle | Scythe Compensator |
| Barrel | VDD 760MM 05B |
| Optic | ZF4 3.5x Rifle Scope |
| Stock | VDD 27 Precision |
| Underbarrel | Carver Foregrip |
| Magazine | .30 Russian Short 30 Round |
| Ammo Type | Incendiary |
| Rear Grip | Bayonet |
| Proficiency | Reach |
| Kit | Nevers of Steel |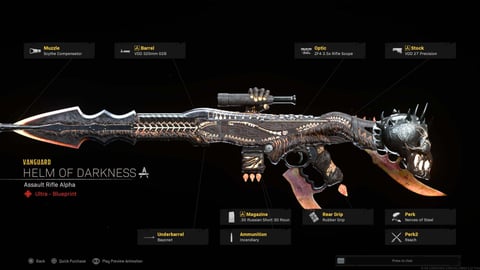 But hey, as we said, if you really just love this skin, then this could be the bundle for you. But for 2400 CoD Points, you could get an Operator Bundle or a couple of cheaper bundles instead. On the plus side, this is the STG44, and it's likely that this gun will remain at least competitively viable throughout the Vanguard year of Warzone. While we're talking about weapons that will remain viable all year...