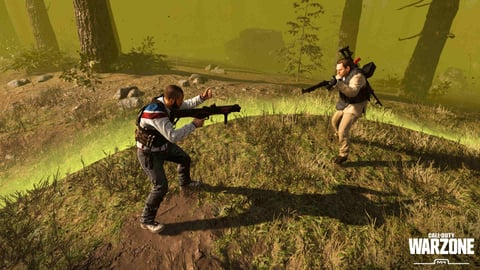 Although a fully automatic shotgun was recently introduced into CoD: Warzone with the JAK-12, the R9-0 is still the most powerful of the kind. The question is: why and how to make it better? Find out here!
The R9-0 is one of the shotguns that's been available in CoD: Modern Warfare and Warzone since the very beginning. It has always been strong at short distances but was never considered to be op. Well, at least not until it got the incredibly strong Dragon's Breath ammunition with the Season 5 Reloaded Update.
The incendiary ammo not only causes immense damage but also sets enemies on fire which means that they die even if the normal hits didn't do the trick. In multiplayer, the ammunition doesn't make too much of a difference as players have no armor and usually die from normal hits but in Warzone, fire proves to be extremely effective against armored opponents.
Coupled with the very high rate of fire of the first two shots, the Dragon's Breath ammunition makes the R9-0 the most powerful shotgun that Warzone currently has to offer. Yes, even stronger than the fully automatic JAK-12.
Setup
The special thing about the R9-0 is its strange firing mechanism. You can fire two shots in a row extremely quickly, then have to briefly reload before you can fire the next two very fast shots.
In the strongest setup as of right now, of course, everything revolves around the Dragon's Breath ammunition and optimizing its range.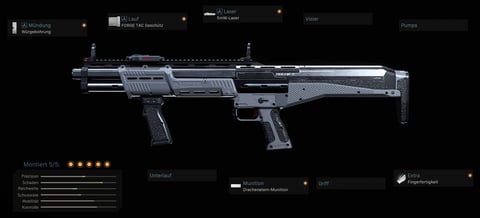 This setup maximizes the range of the shotgun, lets you reload quicker, and sizzles everything in your way:
Muzzle: Choke
Barrel: FORGE TAC Impaler
Laser: 5mW Laser
Ammunition: Dragon's Breath Ammunition
Sleight of Hand
Both Choke and the FORGE TAC Impaler reduce pellet spread and increase the range of the R9-0. The Laser increases precision when hip firing and boosts the sprint to fire pace. The Dragon's Breath ammunition sets your opponents on fire and eats through their armor plates, Sleight of Hand lets you reload faster in dangerous situations. If you think you don't need the increased reload speed, you can instead use the Granulated Grip Tape which further increases the sprint-to-fire speed.
With these attachments, the R9-0 eliminates a fully armored enemy up to 9 meters away with the first two hits. Refrain from aiming and hip firing too quickly – make sure the first two shots hit instead. If you miss a shot, the short time it takes to reload could mean death.
With this setup, you have one of the most powerful weapons in Warzone, especially for close indoor battles. If you haven't tried it yet, you should definitely consider replacing the MP5 in your loadout with the R9-0.

All other news and updates about Call of Duty, such as the most annoying setups to troll, can be found on EarlyGame.
Original article by Lukas Ballat