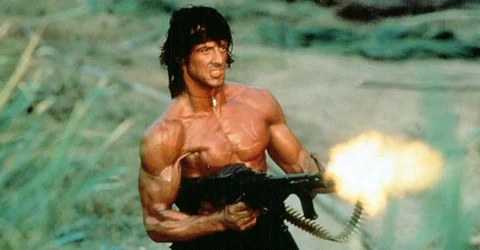 In a series of curious tweets, the official Call of Duty Twitter Account began hinting at the arrival of a familiar face in Warzone and Black Ops Cold War – John Rambo. The First Blood star will be joining the ranks alongside Jigsaw and Leatherface, continuing Activision Blizzard's trend to use famous film characters as their CoD Operators.
John Rambo definitely makes an iconic choice for Warzone. No doubt he'll be topless, and with some blood-stained cloth wrapped around his head, flexing the kind of pecs that make you double-check the ESRB rating. If he does come, then we should also expect other cosmetic items to be launched alongside - probably jungle camos for an LMG, but maybe also a melee weapon skin as a homage to his trusty survival knife.

[UPDATE] May 10, 2021
Call of Duty finally revealed the Release Date of John Rambo in Warzone! According to the Twitter post and the short Clip Rambo will arrive in Warzone and Black Ops Cold War on May 5, 2021.
Become war.
5.20.21. pic.twitter.com/omIRogihm2

— Call of Duty (@CallofDuty) May 10, 2021
[UPDATE] May 7, 2021
The official Call of Duty Twitter account has been teasing the Rambo Operator crossover on Twitter. It seems that the Twitter account is now only following eight people, all with the surname "Trautman". Curious. What the hell could this all be about?

Sam Trautman was a character in Rambo, and a life-long friend and mentor of John Rambo, you can check his full Wikipedia entry here. Well, it is looking more and more and more like Rambo is coming to Warzone and BOCW. Not surprising, kind of a perfect fit. Get hyped!
What is Call of Duty teasing now....

They only follow 8 people on Twitter now, and all have the last name "Trautman." pic.twitter.com/VNzd8oOzgk

— Call of Duty News (@charlieINTEL) May 6, 2021
[ORIGINAL ARTICLE]
BOCW & Warzone Rambo Operator: Call Of Duty's Twitter Clues
The first clue to Rambo's Call of Duty: Warzone and BOCW appearance was given in a reply the developers made to fan suggestions, specifically about introducing 80's action heroes into Verdansk:
Rambo character basically confirmed: pic.twitter.com/tNwEKrtQhy

— Call of Duty News (@charlieINTEL) May 6, 2021
Which was followed shortly by this...
Does anyone know SURVIVORJOHN#1009062? Their #WarzoneReport is a sight to be seen. pic.twitter.com/EUFPmexQnF

— Call of Duty (@CallofDuty) May 5, 2021
Any 'player' with such a stat line would obviously be cheating (over 500 kills with no deaths), and these numbers correspond exactly to details from the Rambo film franchise:
552 Kills: The exact number of kills Rambo makes across the series.
0 Deaths: Well, Stallone is certainly getting older but Rambo is alive and well.
5 Games Played: There have been five Rambo films.
5 Wins: Rambo always wins.
7 Hours Played: Total running time of all Rambo films? About seven and a half hours.
Quick tip, if you want us running the numbers and keeping an ear to the ground for you on stories like this, then consider joining EarlyGame+ for less than a euro month, and enjoy some unbelievable giveaways.
When is Rambo Coming to BOCW & Warzone?
According to the latest Twitter post (shown at the top in our latest update) Rambo will arrive on May 5, 2021. It seems that he will be part of one of the weekly Playlist Updates.

We're always getting excited to show off new swag in Warzone, and who's going to look more iconic hanging out the side of a helicopter than Rambo himself? Send us the best of your warzone content, and let us know who you'd want to see after Rambo on Facebook or Twitter. For more news on all things Call of Duty (and plenty more), join EarlyGame today.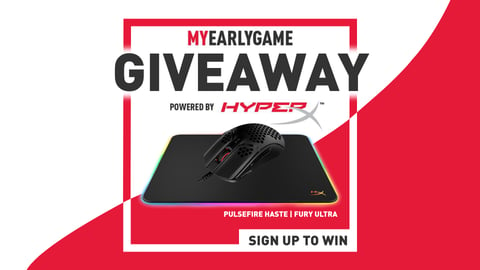 READ MORE: