Call of Duty recently unveiled a new Operator Skin, named "KING," which sparked high anticipation among fans who were hoping to see a Pro Player known as the "King of CoD." However, to their surprise, the Operator Skin turned out to be something different. Here is everything you need to know!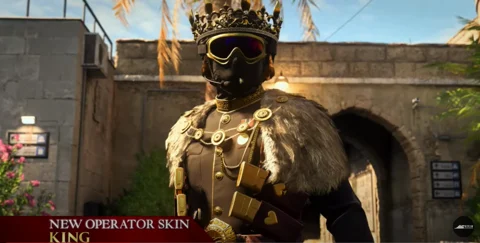 Call of Duty has been releasing a ton of new Operator Skins for the community, but one particular addition has caught the attention of fans due to its exceptional design and an intriguing name: "KING".
Could it be the Operator Skin of "The King of CoD"?
King Skin Supposed To Be CoD-Legend Scump?
In the ever-expanding world of Call of Duty, new Operator Skins continue to make waves among the community. The latest addition to the line-up, the King Operator Skin, has captured the attention of players with its unique and captivating design. However, what has truly sparked discussions and raised eyebrows is the name associated with it.
The name "King" carries significant weight within the Call of Duty community, often synonymous with the legendary player Scump, who is hailed as the "King of CoD" by fans. With the introduction of the King Operator Skin, many players anticipated it to be an homage to this beloved pro player. Unfortunately, the skin's name does not represent Scump or any specific individual. It is simply referred to as the King Skin!
This revelation has left fans feeling somewhat disappointed, as they had hoped for a skin that paid tribute to the iconic player who has left an indelible mark on the Call of Duty scene. The fact that popular Twitch streamers like Nickmercs and TimTheTatman received Operator Skins, despite their vocal criticisms and potential departure from the game, has added to the frustration among fans.
Huge missed opportunity to pay respects to the king @scump would have gotten more purchases if it was a skin designed for the King of CDL @Activision @CallofDuty but who am I. If you are looking for a new creative director though. Out with the old and in with people who actually...

— Millz (@ImMillz) May 17, 2023
Scump's legacy as an esteemed figure in the Call of Duty community spans years, and his absence from the roster of Operator Skins named "King" is disheartening for many dedicated fans.
However, it is important to note that the King Operator Skin is still available for purchase in the in-game shop. While the King Operator Skin may not fulfill the hopes of some fans, it remains a noteworthy addition that adds a touch of allure and grandeur to the game.
What do you think of the new King-Skin?
Have you heard of CoD 2023 yet?
This article contains affiliate links which are marked with [shopping symbol]. These links can provide a small commission for us under certain conditions. This never affects the products price for you.