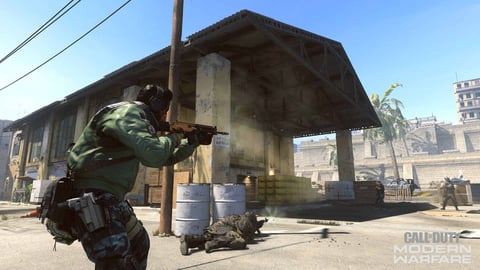 This morning the latest Patch 1.28 for Modern Warfare and Warzone went live. It brings not only bug fixes but also a fully automatic shotgun, changes for two DMRs, and a playlist update.
Patch 1.28 is live and focuses mainly on fixing some bugs. But there are also new things about the weapons: The SP-R 208 was slightly toned down and the Kar98 was slightly buffed. But more importantly, a new weapon is available. With the JAK-12, which is based on the AA-12, a second fully automatic shotgun is available. Let's go through the patch notes together.
Tonight's update will begin rolling out across all platforms at 11PM PDT!

In the meantime, check out the patch notes to see what fixes we've made, what's in our playlist update, and information on uninstalling content on PC! https://t.co/OudYJbZrhK

— Infinity Ward (@InfinityWard) October 14, 2020
PC Players Get More Space
As announced yesterday, PC gamers now have the possibility to uninstall individual modes of Modern Warfare to save space on their hard drives. Using the game options for Modern Warfare in the Battle.net launcher - campaign, multiplayer, and special ops can be uninstalled separately if desired. Only Warzone cannot be uninstalled. This should free up some disk space.
Playlist Update
Multiplayer
Ground War is back.
Gunfight is playable.
Deathmatch Domination + Drop Zone offers some serious action. In Deathmatch Domination you earn points by killing and holding targets, in Drop Zone, you have to occupy zones to get equipment deliveries with killstreaks.
In Gun Game TDM you get a new weapon after each kill.
HQ Firefight lets you earn points not only by capturing and holding the HQ but also by kills.
Warzone
Bloodmoney Quads were removed.
Plunder Quads are available again.
Top 10 Best Multiplayer Maps in Call of Duty History

View gallery
All About the Weapons
In Patch 1.28 two DMRs were slightly modified. There are no exact numbers, but the minimum damage at range for the Kar98 has been increased slightly, while that for the SP-R 208 has been decreased. It remains to be seen how much this affects the two weapons, so let us know what you think of the adjustments.
A new fully automatic shotgun is available with the JAK-12. You can unlock it through a challenge that requires you to do 3 kills from the hip in seven different matches. Since the weapon can apparently have both Explosive Ammo and Dragon Breath Ammo (incendiary ammo), many players are already worried that the weapon will be a lot of surgery.
The AA-12 can have Dragon's Breath Rounds.... oh lord...

— ModernWarzone (@ModernWarzone) October 14, 2020
Especially smaller maps and especially Shipment could become even more strenuous with this weapon in the future.
Bugfixes
The new patch also fixes a number of problems, but we will only discuss the most important ones here. You can find the complete list at Infinity Ward.
Fixed an issue where teammates could spawn inside a closed-off room on Broadcast.
Fixed a bug where grenades could fall through the floor in the Foreman's Office while on Mialstor Tank Factory.
Fix for an issue where players could experience a crash after reaching wave 45 or higher in Survival mode.
Fix for a bug where players might not be able to access Bunker 11.
Fixed a gas mask bug when players attempt to complete the Season 6 Easter Egg.
Fixed several problems with deaths in the subway. You will now land in the gulag as planned and you can still be taken to the next station.
Fixed a bug where players could experience a crash after engaging with a Bounty contract.
The possibility to uninstall some content is very welcome, but also some more crash fixes make us optimistic about the future of Warzone. We can't wait to learn more about the big Halloween event Haunting of Verdansk. We'll keep you updated as soon as there's any info on it.
More news and updates about Call of Duty, such as our SP-R 208 Setup Guide, can be found on EarlyGame.
Original article by EarlyGame's Lukas Ballat.