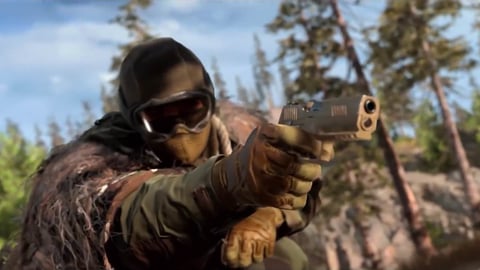 Light machine guns are among the most popular weapons in Warzone after assault rifles and submachine guns. The MG34, however, is rarely played, although it has enormously high damage. But with our setup guide it is definitely worth a look.
The Bruen MK9 was long considered the best weapon in the game. However, it has recently been heavily nerfed which gives players the opportunity to experiment with the other options in the same class. Both the PKM and the M91 or Holger-26 are solid options, but what about the iconic World War II rifle, the MG34?
CoD Warzone MG34 Setup Guide
The MG34 has the highest damage in its class and a high rate of fire. Even most assault rifles can't keep up with their time-to-kill. Only the AMAX has a slightly faster TTK. But why is the machine gun still not played? The main reason is the very poor mobility and the extremely slow reloading. Especially the time to aim is disproportionately high with the MG34 which is why most players prefer faster weapons.
To make the weapon playable nevertheless, we recommend the following setup: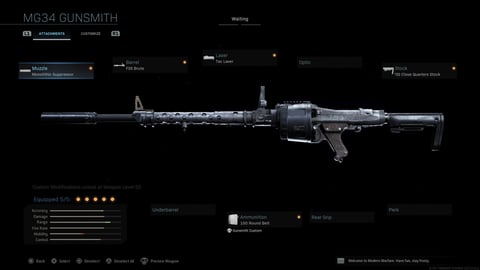 This setup increases the stability of the weapon and tries to reduce the time to aim as much as possible:
Muzzle: Monolithic Suppressor
Barrel: FSS Brute
Laser: Tac Laser
Stock: FSS close quarters stock
Ammunition: 100 round belt
The muzzle and barrel increase the effective range of the weapon and help to control the recoil better. The laser and melee stock significantly improve aiming time and the 100-bullet belt prevents you from having to reload too often. All in all, the MG34 is still significantly slower than the other LMGs but it is easy to play, especially at long and medium distances.
So if you prefer a more cautious playing style and are always in a good position, the MG34 can wipe out several opponents in no time at all. However, you should not be surprised in close combat. It's best to take one of the top submachine guns as a second weapon:
Even if the weapon isn't an absolute top pick with attachments, with the right setup and an adapted playing style you can have a lot of fun with the MG34. It is best to try it out yourself!
CoD: Top 5 Warzone Weapons before Black Ops Cold War

View gallery
More Call of Duty news and updates, such as all pre-order offers for Black Ops Cold War, can be found here, on EarlyGame.