More codes in Idle Angels promise you more fun. So check out our list of the latest codes and redeem them right away. The codes below are current for May 2023.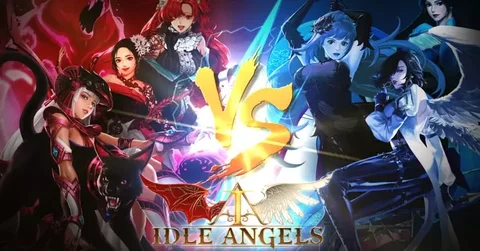 Idle Angels is a mobile role-playing game (RPG) that combines strategy, collection, and battles. Take on the role of a celestial being and assemble a team of powerful angels to combat evil forces and protect the world. The game offers a blend of idle and active gameplay, allowing you to passively accumulate resources while away and engage in real-time battles when actively playing.
In Idle Angels, Diamonds serve as the premium in-game currency with several uses. With diamonds, you can summon new angels to expand your team, accelerate the upgrade and enhancement process of your angels, and instantly complete timers. Overall, diamonds in Idle Angels offer you valuable advantages and convenience in your journey to build a formidable team of angels and conquer the game's challenges.

How Do You Redeem These Codes In Idle Angels?

To redeem gift codes in Idle Angels, go to the main lobby screen.

Click your profile icon in the top left corner.
Select 'Gift Code' under the support section of your profile page.
Type in an active gift code and click 'Confirm'
You will then instantly receive the contents of the gift code.

This is where you can redeem codes in Idle Angels | © IdleAngels/Mujoy
Active Idle Angels Codes (May 2023)
These codes were last checked & updated on May 22.
Here are all the working Idle Angels codes:
IAHappyEasterDay – Diamonds
idleangelsfb – Advanced Summon Scroll, 10 Advanced Training Vials, 1,000 Enhance Essence

idleangelsreddit –100 Diamonds, 50 Holy Cores

IdleangelsINS – 200 Diamonds, Advanced Summon Scroll

ildeangelstaptap – 500 Diamonds

iakr2022 – 500 Diamonds

87cuxuurnq – 500 Diamonds

uu2u3krcma – 500 Diamonds

GiftForSept – 500 Diamonds

HappyGaminginIA – 500 Diamonds

loungespring – 500 Diamonds
Expired Idle Angels Codes
Here are the expired Codes. Take the safe option and use the active codes.
IA2021Xmas
IA2021thanksgiving
thanks2021

xmas2020
xmaseve2020

thanksgiving2020
idleangels23r

oct1st
gxfc2021

xnkl2021
stjk2021

wsry2021
hbnl2021

easter2021
2021may

anniversary2021
summer2021

Sep2021
IAoctober2021

iaspringfestival2022
cygg2022

jhsf2022
hhsw2022

hzfn2022
rhty2022

fhyc2022
hndj2022

idleangels2020/idleangels2021
THISISACODE

Demonlord641001st
With these codes, the evil forces will no longer stand in the way of your advancement in Idle Angels.
If you're looking for codes, just come back here! But if you're interested, this is the official Twitter of Idle Angels, and they occasionally release new codes there.

Camille's hookshot in LoL is OP even without diamonds.