Want to get free rewards? Check out this guide and discover redeemable Stand Proud codes for September 2023! They can be very helpful!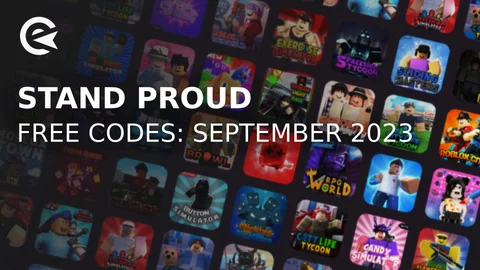 Stand Proud is a battleground-based Roblox game dedicated to Jojo's Bizarre Adventure. It is supported on all the platforms, which makes the game a perfect option for everyone who loves Roblox and anime. While Roblox: Stand Proud is still in the demo, the game has an extensive code system with freebies for every player. By using codes, players can obtain Yen, Gems, Boosters, and other important in-game resources. Still, premium benefits are inaccessible from Stand Proud codes. Keep scrolling down, and you'll discover all the active Stand Proud codes for September 2023. Moreover, we also described how to redeem codes and where to find more freebies.
How To Redeem Codes In Stand Proud
In the list below, you can discover step-by-step instructions on redeeming codes in Roblox: Stand Proud. They can be helpful not only for beginners but also for experienced players.
Open Roblox and launch Stand Proud
Tap on Menu in the bottom-left corner of the screen
After that, press the Twitter Icon button
Enter the code into a newly appeared text box
Press Enter
Voila! Rewards are on your account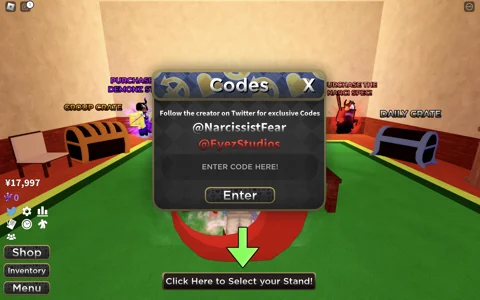 While redeeming codes, try to be extremely careful with the spelling. Even a minor mistake might invalidate the code, preventing you from obtaining freebies. That's why you should double-check a code before pressing the button Enter.
Stand Proud Active Codes (September 2023)
This was last updated on August 28
Once you know how to redeem codes in Roblox: Stand Proud, check the list below. Here are the redeemable Stand Proud codes.
TheTrinityUpdate – Use the code for 9,999 Yen
StoneExperience – Use the code for 4,999 Yen
ScrewDataIssues – Use the code for 4,999 Yen
ShiningSematary - Use the code for Lil Shine and Sematary

If you want to maximize the profit from codes, use these freebies simultaneously. It will significantly improve your in-game experience, especially if you are a newcomer.
Stand Proud Expired Codes (September 2023)
These are expired codes for Roblox: Stand Proud:
Thanksfor50kAnd10MVists
TheWorldAlternativeUniverse
ithoughtilostyou
Insta350Followers
NewStandReworks
Twitter10K
NewUpdate2
Acloudyskye
Anamaguchi
WeReached2kPlayers
ThanksFor40k
PurpleOverMyHead
MonstersInMyBasement
SORRYFORTHETROUBLE
YoAngelo
NewUpdate1_5
ListenTo_acloudyskyefor
NoWay32kLike
ThanksFor31kLikes
WOWThanksFor1kPlayers
SorryMobilePlayers
ICantSaveYou
MaintenanceIsOver
StStandingProudReleasedLol
Likes30K
These codes don't bring any valuable rewards. So, don't waste your time trying to redeem them.
Where Do You Get Stand Proud Codes?
If you want to get new Stand Proud codes regularly, don't worry. Look no further than the following social media accounts:
These are the official social media accounts of the developer, and here you can find all the important information about the game. Moreover, here you can also find giveaways that bring much more freebies than codes.
This article contains affiliate links which are marked with [shopping symbol]. These links can provide a small commission for us under certain conditions. This never affects the products price for you.