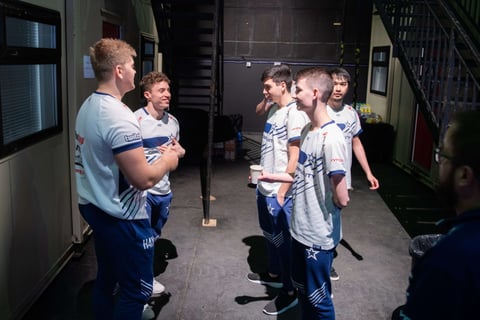 Complexity Gaming accomplished the unthinkable by advancing from Group B of the BLAST Premier Spring Series regular season and straight into the Finals. What's more shocking, that feat came at the expense of the world's number one ranked team – Astralis.
Complexity emerging as a force at BLAST Premier Spring Series
Complexity isn't a bad team by any stretch of the imagination, but given the company the team had in Group B, no one could have said they'd finish top two without getting checked into a mental institution.
You have Astralis, Vitality AND Natus Vincere and somehow two of them get eliminated? Yep, courtesy of Complexity. The Euro-American mixture announced itself straight away with a clean sweep of reigning Major champions Astralis and proceeded with an outright routine victory against Vitality.
That second game was so embarrassing for the Frenchmen that the only non-Frenchman on the team Alex "ALEX" McMeekin felt the need to defend French pride with some undermining comments afterwards. Imagine a Brit making excuses for some French dudes. It was that bad.
Na'Vi put an end to the parade with a 2-0 in the winners' final, thus pulling Complexity a step down in the playoff ladder for the Finals. I'm pretty sure Kristian "k0nfig" Wienecke and co. would have taken that deal 10 out of 10 times ahead of this weekend.
Natus Vincere went through a rollercoaster of their own these couple of days. After getting their butts handed to them by Vitality in the opener, they were two rounds away from packing their bags against Astralis. A sudden change of gear at the end of the game saw the CIS roster pull back from 11-14 down on the deciding map of Inferno and bring flashbacks of 2016 Astralis when they were losing these kinds of matches quite a lot, believe it or not.
Na'Vi brought that same energy in the rematch with Vitality and managed to retake their own butts from the French. Once more with all body parts intact, Natus Vincere were unapologetic towards Complexity, securing a more advantageous position at the BLAST Premier Spring Series Finals.
How's the BLAST Premier Spring Series picture shaping out
FaZe Clan are the other top seed for the Finals, having won Group A. Complexity will enjoy Team Liquid's company in the lower seeded part of the bracket. Astralis and Vitality will have the BLAST Premier Showdown to console them – an event that also includes Ninjas in Pyjamas and Made in Brazil, so far.
The final matches of the regular season, those in Group C, will be played February 14-16. The group includes Evil Geniuses, 100 Thieves, OG and G2.