Wir wollen euch bei der Wahl unserer Kandidaten miteinbeziehen, also habt ihr jetzt die Möglichkeit uns eure Vorschläge für Kandidaten bei den EarlyGame Awards zuzuschicken.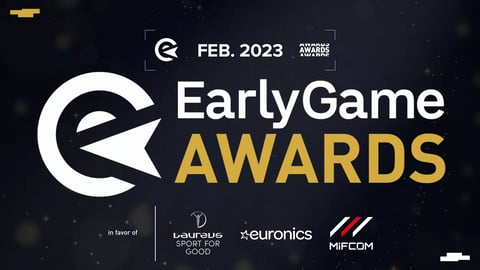 Wir arbeiten zurzeit an unserer Liste mit den Kandidaten für die EarlyGame Awards und da stellt sich natürlich die Frage, wen ihr als Community dabei haben wollt? Immerhin handelt es sich ja um einen Community-based Award.
Wir haben glaub ich schon ne ziemlich nice Liste aufgestellt, aber hey, man weiß ja nie. Vielleicht haben wir ja jemanden übersehen, der unbedingt dabei sein muss! Ich mein jetzt nicht Monte oder so.
Falls ihr nochmal nen Überblick für die Kategorien braucht, here you go!

Upcoming Streamer of the Year
Social Personality of the Year
Gamer of the Year
Esports Team of the Year
Esports Player of the Year
Bei Upcoming Streamer of the Year suchen wir vor allem nach Leuten mit insanem Wachstum, die es auf jeden Fall bis an die Spitze von Twitch schaffen. Letztes Jahr hatten wir da HoneyPuu nominiert und look at her now!
Bei Gamer of the Year haben wir hauptsächlich richtig fette Streamer im Sinn, die vielleicht auch krasse Events usw. gemacht haben, aber vielleicht auch welche, die einfach wirklich sicke Gamer sind.


Ich glaube die anderen erklären sich ziemlich von selbst und wichtig wäre halt, dass es deutsche Content Creator sind (bei Social Personality gehen auch Vereine usw.)
Jetzt, wo ihr wisst, was wir so auszeichnen, fällt euch ja vielleicht sofort ein Name ein, der perfekt passen würde.
Das nice ist, ihr könnt einfach hier für ihn/sie voten, wir checken das und wenn der/die Streamer*in wirklich passt, seht ihr ihn vielleicht als Kandidaten, möglicherweise sogar Winner, bei den Awards.
Alle Vorschläge gerne hier in die Typeform eingeben, wir freuen uns auf euren Input :).
Wenn ihr spenden wollte, habt ihr jetzt nochmal die Chance dazu: