Fortnite Chapter 4 Season 2 steht bevor und bringt neue, futuristische Motorräder ins Spiel. Hier sind alle Details.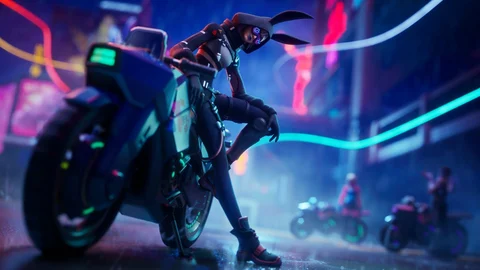 Fahrzeuge sind ein wesentlicher Bestandteil von Fortnite. Mittlerweile gab es zig verschiedene Fahrzeuge in Fortnite, angefangen bei Golfwägen, bis hin zu Autos und Flugzeugen. Und mit Chapter 4 Season 1 sind sogar Motorräder auf der Insel erschienen! Doch diese sollen in Season 2 ein Upgrade bekommen und noch krasser als zuvor ins Spiel zurückkehren.

Neue futuristische Motorräder in Fortnite Chapter 4 Season 2
Die ersten Leaks kamen wie immer von unserem guten Freund und Fortnite Leaker Hypex. Er teilte über einen Tweet mit, dass Epic an einer neuen Version des Motorrads arbeitet. Es wird vermutlich genauso funktionieren, wie die Fahrzeuge die bereits im Spiel sind und nur einen neuen optischen Anschliff, passend zum Neo-Tokyo Thema bekommen.
Heißt, es hat 2 Sitze, man kann das Motorrad vermutlich boosten und mit ihm driften. Außerdem werden die Fahrzeuge wieder Treibstoff benötigen, um zu funktionieren.
FORTNITE SEASON 2 LEAKS

- Lucky Landing v2 POI & Neo-Tokyo POI
- Katanas / Swords Items
- Futuristic Motorcycles
- New Weapons (Including a Pistol & Shotgun)
- Glowing tubes you slide on as mobility while holding your weapon

From the same source that contacted me & @ShiinaBR pic.twitter.com/feovtmSnYH

— HYPEX (@HYPEX) March 2, 2023
Wie bereits geschrieben, wird Season 2 in einem futuristischen "Japan-Cyberpunk-Thema" spielen. Daher passt der neue Anschliff perfekt zu den Motorrädern. Doch natürlich werden uns auch andere spannende Dinge erwarten. Wenn du wissen möchtest was, dann schaue am besten gleich hier vorbei:
Ansonsten dauert es ja eh nicht mehr lange, bis die neue Season startet. Wir sind auf jeden Fall hyped und du?
Sponsored by
Mit dem Einkaufswagen-Symbol markierte Links sind sogenannte Affiliate-Links, über die wir unter bestimmten Umständen eine Provision erhalten. Für dich entstehen dabei keinerlei Mehrkosten.