Das große Fortnite Creative 2.0 Update könnte endlich kommen, und zwar zur gleichen Zeit, zu der das neue Chapter beginnt.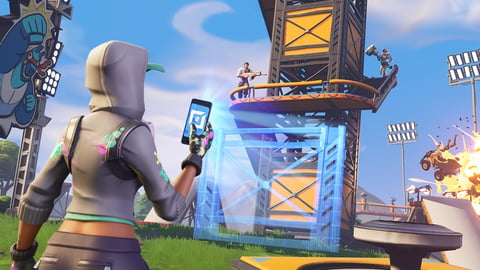 Fortnite Chapter 3 Season 4 neigt sich bald dem Ende zu und die Spieler warten sehnsüchtig auf den Start von Chapter 4 Anfang Dezember. Kürzlich haben wir erfahren, dass das neue Chapter früher als erwartet beginnen wird - eine gute Nachricht für alle, die sich nach etwas Neuem sehnen!
Zusätzlich scheint es so, als würde der mit Spannung erwartete Modus Fortnite Creative 2.0 zeitgleich mit der Ankunft von Chapter 4 starten. Das sind großartige Neuigkeiten für Content Creator, die mit den Unreal-Engine-Tools von Epic Games in Fortnite einzigartige Spielerlebnisse erschaffen wollen.

Die Information kommt von niemand anderem als Shiina, die erwähnt, dass Epic eine neue Version namens "23.00.UEFN" zu den Testservern hinzugefügt hat, wobei die Ankunft von Creative 2.0 zusammen mit Chapter 4 unmittelbar bevorsteht.
CONFIRMED: UEFN / Creative 2.0 will launch together with the next Battle Royale season!

Epic just added a new version called "23.00.UEFN" to their testing servers! It's still possible that the release date gets changed, but it's VERY unlikely.

(h/t @GMatrixGames)

— Shiina (@ShiinaBR) November 9, 2022
Shiina gibt an, dass es zwar nicht 100 % bestätigt sei, sich die Dinge aber wahrscheinlich nicht großartig ändern werden. Das bedeutet, dass Creative 2.0, wie von den Spielern gehofft, wohl gleichzeitig mit dem neuen Battle Pass erscheinen wird. Gerade rechtzeitig zur besinnlichen Weihnachtszeit können wir uns auf ein paar schöne Weihnachtskarten freuen.
Wie wir bereits erwähnt haben, hat Fortnite Creative seine eigene engagierte Fangemeinde. Mit den neuen Tools, die mit 2.0 kommen, wird die Community sicher noch größer werden. Das Spiel lässt dich eine Menge Dinge personalisieren und gibt dir die Möglichkeit, deine eigene Fortnite-Insel zu erschaffen und sie schließlich mit potenziell Millionen von Spielern auf der ganzen Welt zu teilen.
Epic Games unterstützt Creative-Nutzer in großem Umfang und bietet ihnen in der Regel exklusive Crossover an. Tatsächlich deutet ein massiver Leak an, dass der Modus einige Pokémon-Gegenstände erhalten könnte, das wäre in jedem Fall ein unglaubliches Crossover.
Für mehr Fortnite: