Ein Fornite-Leaker hat behauptet, dass es bald ein Crossover zwischen Fortnite und League of Legends geben wird und ein Jinx-Skin ins Battle Royale kommt.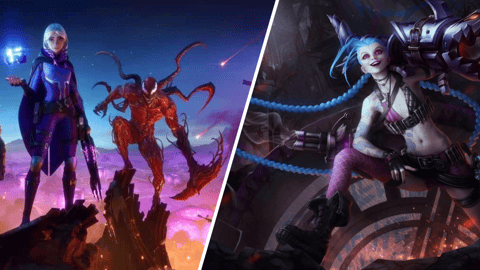 Fortnite und Crossover gehören mittlerweile einfach zusammen wie Pech und Schwefel. Die Liste der Kooperationen umfasste einige der größten Namen der Unterhaltungsindustrie, darunter Ariana Grande, J Balvin und Will Smith, um nur ein paar der Superstars zu nennen. Doch neben ihnen tauchten auch Figuren aus anderen Videospielen wie Samus Aran und einige Street Fighter Charaktere in der Liste auf. Nun wird einem neuen Leak zufolge der Spielegigant League of Legends das nächste Crossover sein, das seinen Weg auf die Insel findet, denn Jinx soll bald zu Fortnite kommen!
Wird LoL Champion Jinx zu Fortnite kommen?
Wenn man dem neuen Leak von Fortnite Leaker Shiina Glauben schenken darf, dann soll League of Legens Champion Jinx bald zu Fortnite kommen. Er schreibt:
Nächste Woche wird Jinx aus League of Legends die Insel betreten, um die neue Show "Arcane" von Riot Games zu feiern.

FORTNITE X LEAGUE OF LEGENDS

Next week, Jinx from League of Legends will join the Island, in celebration of Riot Games' new show "Arcane". pic.twitter.com/OBzfwBYJxM

— Shiina (@ShiinaBR) October 30, 2021
Der YouTuber Fortnite Bruh zeigt außerdem, wie der Skin Ingame aussehen soll.
Wann kommt LoL Champion Jinx zu Fortnite?
Der Leaker hat kein genaues Datum genannt, wann Jinx dem Spiel hinzugefügt wird. Er sagt lediglich in seinem Tweet vom 30. Oktober, dass er "nächste Woche" erscheinen wird.
Diese Kooperation würde mit dem Release der League of Legends-Netflix-Serie Arcane zusammenpassen, die am Samstag, den 6. November 2021, auf dem Streaming-Dienst erscheinen soll. Wir können also damit rechnen, dass der Skin irgendwann zu diesem Zeitpunkt erscheinen wird.
Wer ist Jinx?
Jinx wird eine Hauptrolle in der neuen Serie spielen, die von Ella Purnell aus Army of the Dead gesprochen wird. In League of Legends ist sie ein Attack-Damage-Carry, den man auf der Bot-Lane spielt.
Kooperationen wie diese haben in der Vergangenheit gelegentlich thematische Quests und neue Orte mit sich gebracht, die es zu entdecken galt. Wie cool wäre es, wenn wir mehr aus dem LoL-Universum in Fortnite sehen würden? Zum Beispiel einen Auftritt von KD/A im Party Royale Modus?
Die MOBA-Fans hoffen natürlich, dass sich noch andere League of Legends-Charaktere wie Lux oder Ezreal der Party anschließen werden. Doch wie immer müssen wir natürlich dazusagen, dass die Informationen bisher nur auf Leaks beruhen und wir noch nicht mit 100%-iger Sicherheit sagen können, dass Jinx wirklich zu Fortnite kommt. Wir werden euch aber wie immer auf dem Laufenden halten!
Mehr lesen:
Powered by