A Fortnite leaker is expecting a crossover between Fortnite and League of Legends. Will we also get a Jinx skin in our favorite Battle Royale?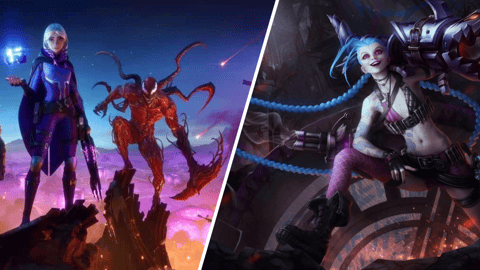 Fortnite and crossovers, name a better duo. Seriously, some of the biggest names in entertainment have had something to do with the battle royal. Ariana Grande, J Balvin, hell, even Will Smith are just a few common names. Video game characters are also part of the long list of collaborations in Fortnite. Samus Aran and various Street Fighter characters are a part of Fortnite already.
Now, according to leaks, Fortnite is going to feature one of the biggest video game crossovers of all-time – League of Legends. The insane ADC from Runeterra, Jinx, might be making her way to the island in Fortnite.
Will the LoL Champion Jinx Come to Fortnite?
If you believe the newest leak from Fortnite leaker Shiina, then we will be welcoming the League of Legends champion Jinx to Fortnite soon! They write:

Next week, Jinx from League of Legends will join the island, in celebration of Riot Games' new show "Arcane".

FORTNITE X LEAGUE OF LEGENDS

Next week, Jinx from League of Legends will join the Island, in celebration of Riot Games' new show "Arcane". pic.twitter.com/OBzfwBYJxM

— Shiina (@ShiinaBR) October 30, 2021
The YouTuber Fortnite Bruh also shows off how the skin will look in-game.

When Will The LoL Champion Jinx be Released in Fortnite?
No date was leaked. It was merely mentioned in the tweet from October 30, 2021, that Jinx will be coming to the island 'next week'.
This cooperation between Fortnite and League of Legends is in celebration of the upcoming League of Legends Netflix series Arcane, which is going to release on Saturday, November 6, 2021. So we believe that the skin will be released around that time.

Who is Jinx?
Jinx is going to be one of the main characters in Arcane and is voiced by Ella Purnell from Army of the Dead. In League of Legends, she is an Attack Damage Carry – ADC for short – in the bot lane.
Collabs like this one usually also include themed quests as well as new places to find on the map. So how epic would it be to include Runeterra and the LoL universe in Fortnite? A concert by K/DA in the Party Royale mode would be pretty sweet, eh?

MOBA fans are also hoping for more League of Legends characters in Fortnite, like Lux or Ezreal. Unfortunately, we have to mention that this information is all based on rumors, and we can't say for sure whether Jinx will even be a part of Fortnite in the coming week. But we're keeping our fingers crossed and hope that this collaboration comes to fruition!

More Fortnite Content: