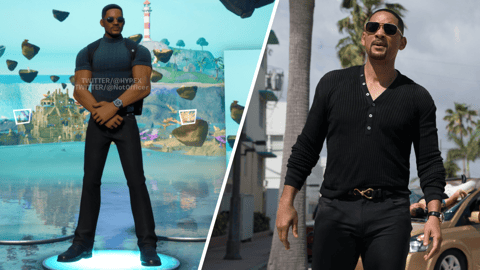 New Fortnite leaks have surfaced, and one of them teases a new A-List Hollywood star coming to Fortnite. The Fresh Prince himself, Will Smith, now he takes the stage as a Fortnite Skin.
Season 7 of Fortnite, definitely has it all and is easily one of the best Fortnite seasons in recent memories. Season 7 has brought together a bunch of characters and franchises that fans might not have expected to see in Epic Games' battle royale. Everything from Ariana Grande, Rick & Morty, Superman, Wonder Woman, Bloodsport, and Street Fighter, all on one crazy AF island. However, the punches keep on rolling, as a new leak hints at one of the most surprising skins in the game to date.
Fortnite data miner iFireMonkey has unearthed the skin of OG Bad Boy, Will Smith. We won't stop to ask why, but only say: it must be to promote some new movie starring Will Smith, and it is probably the next chapter in the Bad Boys franchise.
Will Smith Skin in Fortnite
The Will Smith skin seems to be inspired by Smith's character Mike Lowrey from the Bad Boys movie series.

Here is the skin in action:

https://t.co/xYM4GZpdZe pic.twitter.com/Ymo7QIHcdn

— Officer (@Not0fficer) August 17, 2021
The Will Smith skin in question seems to be from the original Bad Boys movie, it's possible that there will be other variants of the skin. Possibly an Agent J variant from Men In Black? Or what about a blue genie version?
As it appears, the skin also includes a badass Back-Bling in the form of an MP. Even though our hype is shooting through the roof right now, all of this information should be taken with a grain of salt, as Epic Games can change their plans for the skin at any time. Epic Games has even been known to put fake information into the patch notes before to make data miners' jobs that much harder.

Will Smith Skin Release Date in Fortnite
Will Smith aka Mike Lowrey is now in the item-shop to help keep law and order in Fortnite! Besides his outfit "Mike Lowrey", including his Detective's Duffle Back Bling, you can also get Mike's dual-wielding pickaxe, the Loose Cannon Cutters.

How Much Does Will Smith aka Mike Lowrey Cost in Fortnite?
Mike Lowrey and his Detective's Duffle Back Bling cost 1,500 V-Bucks in Fortnite, which is roughly the equivalent of 15 euros. You can also buy his Loose Cannon Cutters for 500 V-Bucks in the item-shop.
Welcome to EarlyGame, your one-stop-shop for everything Esports and Gaming. Check out MyEarlyGame for an exclusive and customizable experience, and to become part of the EarlyGame family. Get engaged on Twitter and Facebook.