Riot is going all-out in their event for Arcane. Watch drops, rewards and much more is planned as a thank you to fans who helped make this series a reality.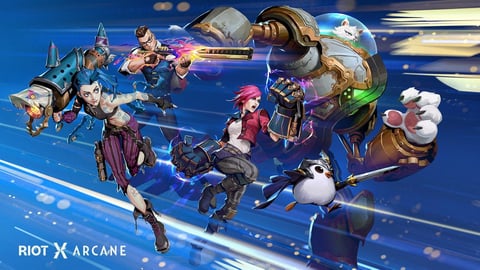 Two years ago, Riot announced their own animated series, 'Arcane'. Now, we're only a week away from the debut of the show, which will showcase a multitude of League of Legends champions.
To celebrate the release of the series, Riot is going all out with collaborations throughout all of their games, as well as with other games like PUBG mobile and maybe even Fortnite – according to leaks.
So, if you're a League of Legends player, what exactly can you gain through the Arcane x Riot event?
How Long is the Riot x Arcane Event?

The Riot X Arcane event is going to last through all of November. Riot developed a specific website just for the event, which you can find right here. The event began on November 1, 2021, and will go until November 30, 2021.
What Events Has Riot Planned for Riot x Arcane?
The first big event this month is going to be on November 6, 2021 – the release date of the series, as well as the 2021 World Championship finals between DAMWON KIA and EDward Gaming.
On the official Riot x Arcane website, Riot wrote:
Joining forces with Worlds, League's biggest moment of the year, we're making it a double feature on November 6. It all starts with Worlds Finals, where there will be an Arcane-themed Show Open presented by Mastercard, featuring music straight from Arcane. We'll continue into the Global Premiere, hosted live on Twitch, and co-streamed by your favorite streamers, with watch rewards across all of our games.
So, for anyone interested in watch rewards, make sure to tune in to Twitch with your Riot account linked! Also, the Worlds opening ceremony should start at 13:00 CET, so tune in for the biggest esports event of the year.
How to Link your Riot Account to Twitch
You have to have both a Riot and Twitch account for this to work – duh. So once you've got both of those, it's super easy to link them. Just follow these simple steps:
Sign in to both your Riot and Twitch account.
On Twitch, click your profile in the top-right.
Select Settings.
Go to Connections.
Find Riot Games and click Connect.
Authorize the connection.
Once you've followed those simple steps, you can watch the official Arcane stream or one of the co-streams and get some epic drops.
What Rewards Can You Get in the Arcane x Riot Event?
Riot X Arcane Watch Rewards
You can gain an Arcane Capsule for your League of Legends account. The capsule will be located in your loot in the League client. This is a full list of watch rewards for all Riot Games:
League of Legends - Arcane Capsule
League of Legends: Wild Rift - "A Single Tear" Emote
Teamfight Tactics - Gizmos & Gadgets Little Legends Egg
Legends of Runeterra - "Fascinating" Emote
VALORANT - "Fishbones" Gun Buddy
But these watch rewards aren't everything. There are also event rewards you can get!
Riot X Arcane Event Rewards
You're also able to get rewards through the Riot X Arcane website. By completing the experiential portion there, you may get extra Prime Gaming Loot as well as other rewards. You can get rewards starting November 7, 2021.
In-game rewards will be made available on November 13, 2021. This coincides with the two different 'portions' of the Arcane event. The first event 'Progress Days' lasts from November 7 to 13 and the second 'Undercity Nights' is from November 14 to 20.
The Undercity Night event will also feature some in-person events as well, according to the official Riot x Arcane website.
What Unique Content is Coming to LoL in Riot x Arcane?
During the Riot x Arcane event, unique content will be coming to League of Legends. Two new dragons will hit the rift – the chemtech and hextech dragon – as well as all other new pre-season runes and items.
New map accents will hit the rift as well to fit with the Piltover and Zaun theme, and you'll even be able to get free skins! Yes, you read that right, free Arcane skins for Jayce, Vi, Jinx and Caitlyn. How these skins will be made available isn't yet known, but we will find out soon.