Prime Gaming and Riot Games give out free loot each month. We go over how to claim it, where to get it and what rewards you can gain.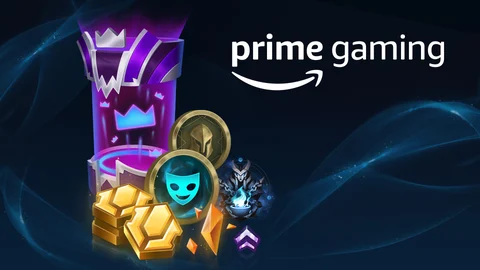 Are you an Amazon Prime member? You enjoy gaming, League of Legends and you love free stuff? Then why not combine everything to get the benefits you've been dreaming of – and let's be real, when a million-dollar company offers anything for free, you take it.
So, getting free skin shards and other goodies is a breeze with prime gaming and the twitch prime loot. We all know Amazon owns Twitch and through Twitch Prime, you can get loot like mystery skin shards, champion shards, blue essence and sometimes – when Amazon and Riot Games are feeling extremely generous – you also get free skins!

LoL Prime Rewards for September & October 2023
This September and October, you'll be able to get a Prime Gaming Capsule. Maybe we will be lucky and receive a Star Guardian skin with the capsule?

These are the rewards for the upcoming prime gaming loot:
350 Riot Points
1350 RP Skin Permanent
1 Ward Skin
Four Champion Shards Permanent
One Random Champion Permanent
200 Orange Essence
Two sets of Series 1 Eternals Shards
30-day XP boost
When Does The Prime Gaming Promotion Start?
You can redeem prime loot as of September 18, 2022 until October 18, 2023. So make sure your Amazon Prime membership is up-to-date because you're getting Riot Points, free skins and even Eternals!

How to Link your Amazon Prime and Riot Account?
To be able to receive free LoL loot and rewards, you'll have to connect your Riot account to your Amazon Prime account. That's what we're about to tell you, and it's actually extremely simple. The first thing you'll have to have is an active Amazon Prime membership.
Then, it's time to check with Riot Games to link your account, so you can start getting Twitch Prime loot and Prime Gaming benefits. Just follow these steps:
Follow this Link to the LoL Prime Gaming site
Sign in to your Riot Account. Make sure it's the right one, since you'll be getting in-game rewards automatically sent to that one account.
Then you'll be redirected back to Prime Gaming, where you can start claiming your prime loot.
How To Claim LoL Loot With Prime Gaming?
Any loot you get through Prime Gaming and Twitch Prime will be sent to your LoL loot. You've probably used this a thousand times to open chests, skin shards and claimed your rewards for League of Legends in-client missions.
Most of the time, the Prime Gaming rewards are mere mystery skin shards. If you do not like the skin shard you've been given, you can always disenchant it in the client into orange essence so that when you do get a skin you like, you can permanently unlock it.
But how do you claim Prime Loot? That's what we're going to check out right now:
You go to the official Prime Gaming site. There are multiple game titles that have free loot available – but scroll until you find League of Legends.
Make sure you're signed in to your Prime Account – otherwise this whole process won't work.
Click on 'claim' for the loot of the current month.
Log in to League of Legends and go into your loot tab on the top right.
Your capsule, skin shard or whatever reward you claimed should be waiting for you right there!
That's it. It's easy to claim your rewards and get a bit of free stuff! Hope you get the skin you want!
Does Prime Gaming Exist for Other Games?
Yes it does. When you check out the Prime Gaming site, there are options for other games as well. If you are a fan of other Riot Games, you can also claim rewards for Legends of Runeterra and Valorant.
Other games like FIFA, New World and Genshin Impact also have in-game goodies which can be claimed.
It isn't just in-game loot that can be obtained through Prime Gaming. You can also get free games on the Prime Gaming site like Rogue Heroes or BAFL: Breaks Are For Losers. These are also time-limited, though, so make sure you pick up these free games quickly before they aren't available anymore!
This article contains affiliate links which are marked with [shopping symbol]. These links can provide a small commission for us under certain conditions. This never affects the products price for you.