Riot Games hat wieder einmal beschlossen, viele der kürzlich vorgenommenen Änderungen rückgängig zu machen. Die Trümmer des ARAM-Turms wird entfernt!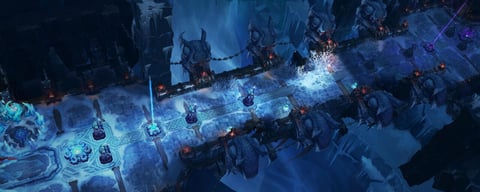 Im vergangenen Dezember hat Riot Games den ARAM-Spielmodus in League of Legends zum ersten Mal seit fast 10 Jahren aktualisiert. Eine der größten Änderungen am Howling Abyss war das Hinzufügen von "Trümmer des Turms", einer Mechanik, die bewirkt, dass Türme Trümmer zurücklassen und so die Mobilität einschränken.
Nach dem Feedback der LoL-Spieler wird diese Mechanik jedoch in einem kommenden Patch aus ARAM entfernt, wie wir kürzlich von den Entwicklern von Riot selbst erfahren konnten.
League of Legends: Turm-Trümmer auf ARAM werden entfernt
In einem Tweet hat Daniel "Maxw3ll" Emmons, Chief Game Mode Director bei Riot, bestätigt, dass Turm-Trümmer mit Patch 13.5 oder 13.6 aus ARAM entfernt werden.
Can someone tell me who thought turret rubble was a good idea for ARAM?! pic.twitter.com/jVdSmxsLli

— Isaac CB (@AzaelOfficial) March 4, 2023
Das war's. In Zukunft können die Spieler damit rechnen, dass die Howling Abyss sauber bleibt. Die Spieler werden definitiv keine Probleme mehr haben, sich durch die Map zu bewegen.
Im Moment können wir bereits sicher sein, dass Turm-Trümmer in einem der nächsten beiden kommenden League-Updates aus ARAM entfernt wird.
Sponsored by
Mit dem Einkaufswagen-Symbol markierte Links sind sogenannte Affiliate-Links, über die wir unter bestimmten Umständen eine Provision erhalten. Für dich entstehen dabei keinerlei Mehrkosten.