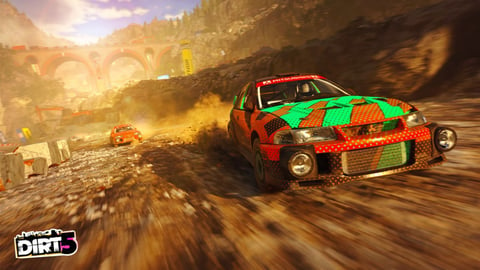 In the DiRT 5 off-road racing game, things will get pretty dirty in October 2020. Now the makers of Codemasters have introduced the career mode.
Those who don't like it as simulation-heavy as in DiRT Rally 2.0 can look forward to a rally game with the DiRT 5, which will be released in October and which puts fun in the foreground. Now the developers have introduced the career mode.
DiRT 5 comes with true story mode
What should be most exciting is that DiRT 5 will offer a real story. After all, the racing game professionals at Codemasters have just made a story in racing games with the Race Driver series.
We can expect some well-known dubbing actors, above all Troy Baker, whom we might already know from BioShock Infinite or Joel in The Last of Us. Baker voices the character Alex Janiček (short: AJ), who comes to our attention at the beginning of his career.

AJ is considered a superstar of the off-road scene and takes us under his wing as a rookie to accompany us on our way to becoming a motorsport legend.
Bruno Durand - voiced by Nolan North - will be our opponent in DiRT 5 and thus also. The duel and our way to the top are discussed in the game by Donut Media's DIRT Podcast with James Pumphrey and Nolan Sykes from the Donut Crew, who drive the story between events.
Pure variety in DiRT 5
Keyword Events. Here DiRT 5 has a lot to offer. The singleplayer career is divided into five areas, which events we want to drive in it, is entirely up to us. A total of 130 events in nine different vehicle classes await us.
We collect brands with which we unlock the respective main event of the classes. This is the grand finale, which should demand everything from us in terms of driving. Players will also compete against other professionals in top-secret throwdowns in a one on one format.
And the best part: the entire career mode of DiRT 5 can also be experienced in split-screen multiplayer with up to four players. Now ain't that great.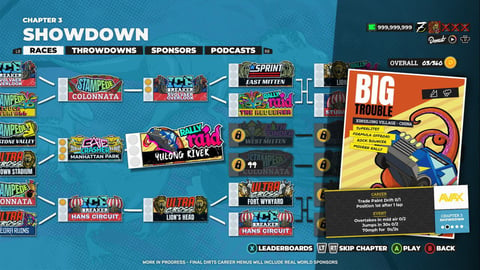 DiRT 5 will be released in October for PC, PlayStation 4 and Xbox One. A conversion for the next-gen consoles PS5 and Xbox Series X will follow the release. The launch for Google Stadia is planned for early 2021.
More about the world of racing games and esports can be found on EarlyGame. We take a look at the rise of virtual racing and what the best racing games of the decade are.