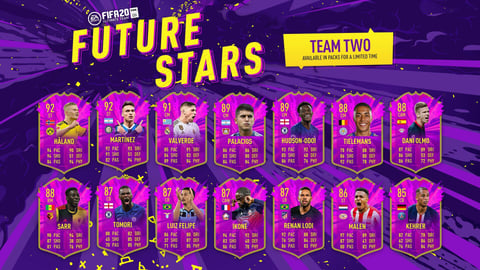 A week after we got a sweet taste of the realized potential Future Stars cards bring, EA has treated us with a second Future Stars pack of promising youngsters. If you thought there's going to be a drop off in quality, you're in for a pleasant surprise, my friend.
Future Stars 2: Erling Håland's playground
João Félix was the cream of the crop in the first Future Stars team with his 92 overall rating. This week it's Borussia Dortmund prodigy Erling Håland whose incredible start in the Bundesliga is already making big clubs drool.
Standing right beside the Norwegian striker at 92 OVR is Inter's young Argentinian star Lautaro Martínez. His 11 goals in the league this term have done a good job at aiding Inter's strong push for the Serie A title and EA see this form sustained for a long time to come.
Real Madrid defy the popular belief they do not count on young players with a second entry in the Future Stars series. After Rodrygo last week, it is Federico Valverde that joins Håland and co. as one of the brightest talents around in this week's squad, boasting a quite impressive 91 OVR.
You can check the entire second Future Stars pack below:
ST: Erling Håland – 92 OVR (Borussia Dortmund)
ST: Lautaro Martínez – 92 OVR (Inter)ю
CM: Federico Valverde – 91 OVR (Real Madrid)
CM: Exequiel Palacios – 89 OVR (Bayer Leverkusen)
LM: Callum Hudson-Odoi – 89 OVR (Chelsea)
CM: Youri Tielemans – 88 OVR (Leicester City)
CAM: Daniel Olmo – 88 OVR (RB Leipzig)RM: Ismaïla Sarr – 88 OVR (Watford)
CB: Fikayo Tomori – 87 OVR (Chelsea)
CB: Luiz Felipe – 87 OVR (Lazio)
CAM: Jonathan Ikoné – 87 OVR (Lille)
LB: Renan Lodi – 87 OVR (Atlético Madrid)
ST: Donyell Malen – 86 OVR (PSV Eindhoven)
CB: Thilo Kehrer – 85 OVR (Paris Saint-Germain)
The players from this pack will be available for a limited time. Which one of these young stars you can't wait to get your hands on? Let us know in the comments! Also, if you want to know more about what Future Stars packs are and who made the cut for the first team, you can click right here.