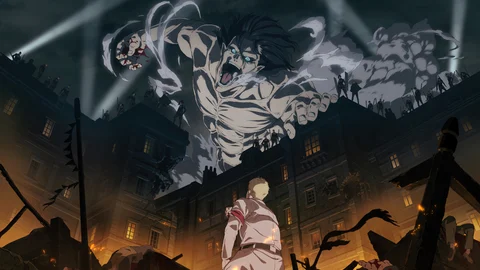 The second part of the final season of Attack on Titan will conclude in January 2022. One of the biggest anime to sweep the nation will come to an end soon. The first part of the fourth season already aired earlier this year, but now we know for sure that more Attack on Titan is yet to come.
The Attack on Titan anime was first released back in 2013 with seasons 2 and 3 coming in 2017 and 2018. The final aired early in 2021, but it was clear that it wasn't the end yet, since there were still pieces of the manga waiting to be adapted. Now, we got a confirmation of that, though.
More Anime News?
When Will the Second Part of Attack on Titan Season 4 Air?
According to Funimation, the final part of the fourth season will be aired in January 2022. Originally, after episode 75 in March 2021, fans were only told that Attack on Titan would return for a second part, but the date was never confirmed.
Thankfully, we now have clarity on when Eren, Mikasa and Levi will return and that their story will conclude in the Winter of 2022. If the streaming times stay the same as for the first half of the season, then keep your Sunday's open, because that's when new episodes should drop.
TVThe Final Season
76
NHKhttps://t.co/7WnFKvhw2C#shingeki pic.twitter.com/KLiKggnKpV

— (@anime_shingeki) March 28, 2021
Who is Animating Attack on Titan Season 4 Part 2?
Mappa will continue to animate the rest of Season 4. Other notable projects which the studio has worked on include Jujutsu Kaisen – which is also getting a movie released in December – The God of Highschool and Kakegurui.

The studio decided to split the fourth Attack on Titan season into two parts, much like season 3 of the series had been as well. The first part of the final season had 16 episodes air between December 2020 and March 2021.
What Other Anime Will be Released in Winter 2022?
Attack on Titan isn't the only notable anime to get a release for this winter. Netflix recently confirmed that Jojo's Bizarre Adventure Stone Ocean will be coming to the platform in December 2021. Also, Demon Slayer is set to release season 2 sometime later in 2021 or early 2022 as well.
How many cameos could you count in Free Guy?
Fans of Attack on Titan can also get excited about the anime adaptation of Tatsuki Fujimoto's Chainsaw Man which should also be coming in 2022, as well as, the second season of the Rising of the Shield Hero.
So, when the second part of the final Attack on Titan season does air, you'll have a lot of overlap with multiple other great shows. Are you excited to watch the final season, or are you more hyped for some of these other shows? Let us know on our Discord!