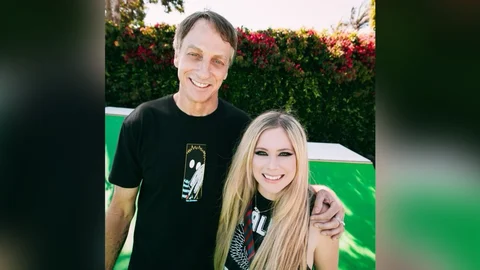 Avril Lavigne is on TikTok! The Canadian sensation joined the site just a couple of days ago and has a single video on her channel, but she's already among the most trending names over there? Why? Thanks to a cool collaboration with Tony Hawk.
Avril Lavigne may not be in peak popularity on the music scene these days, but she nailed the trends out of the water on TikTok. How could you do that with a single video? By picking the right type of collaboration.
Avril Lavigne & Tony Hawk Team Up for TikTok Video
Avril Lavigne and Tony Hawk are a pair of celebrities you'd expect to be better recognized by the older generation. One is a musician whose best years were in the mid-2000s and the other is a 53-year-old skateboarder. Well, the older generation, i.e. me, is happy to see that these two legends can still cause a stir on the internet, in all of 28 seconds.
Avril Lavigne decided to hop on TikTok and uploaded a sort of "announcement" video that we can all appreciate. It's not a long boring greeting speech, à la Bree Larsson. It's a shot of nostalgia straight to the vein.
That one video of skating legend Tony Hawk doing his thing over Avril Lavigne's own hit single "Sk8ter Boi" has accumulated the Canadian singer 1.3 million followers, 4.2 million likes and over 103.000 comments on TikTok, at the time of writing.
Avril is taking the expression "if you're gonna go out, go out big" and turning it into "if you're gonna go on TikTok, go F-ing big, son". Now excuse me while I go rewatch Friends to complete the trilogy of things I used to like in 2002.
Create a MyEarlyGame account now! It lets you customize our site and enter all of our giveaways. You can also follow us on Instagram, or join our Discord for a fun chat.