Jake Paul is the new money man in boxing, and now the former YouTuber has his sights set on a real boxer: Tommy Fury, the younger brother of heavyweight legend Tyson Fury.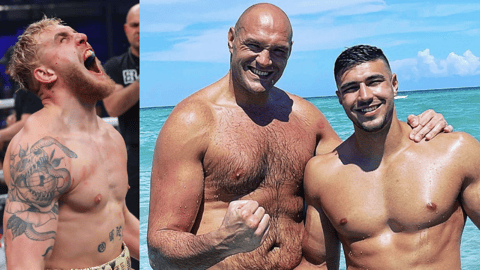 Alright, so we've written about this before, but now it seems to be close to a done deal: Jake Paul vs Tommy Fury. The YouTuber vs the actual boxer and brother of boxing legend Tyson Fury. Actually, it's unfair to still call Jake Paul a YouTuber, because he did prove himself recently against Tyron Woodley, but still: Tommy Fury is the first real boxer that Jake Paul is facing. If the fight truly happens, this is going to be an interesting one.

Jake Paul vs Tommy Fury: Set for Late November/December
According to Fury's promoter Frank Warren, the fight deal is in its final stages, and will be finalized this week, with a fight date expected for November/December. This is interesting, since it implies both Jake Paul and Tommy Fury must've been in training for a while, since any training camp worth a damn runs for three months. But, to be fair, Tommy Fury is an actual boxer, and just fought Anthony Taylor – a fight that he won by Unanimous Decision – on August 29 of this year, the same date that Jake fought Tyron Woodley. Since both of them fought so recently, it's fair to assume that both of these men are in shape.
Will Jake Paul actually stand a chance against Tommy Fury, though? Well, betting sites have him pegged as the underdog, and Tommy's brother Tyson is not mincing his words on what he expects from his baby brother:
I think the fight needs to happen, Tommy and Jake Paul will get the fight done and if Tommy can't splatter Jake Paul, I'll retire him from boxing myself. He doesn't need to be a [boxer]. If he can't beat Jake Paul, forget about boxing, because he's got ambitions of being the world champion... But it's a great fight for the social media world. If Tommy has got any ambitions of being a world champion, his name is Fury! If he can't beat Jake Paul, I'll have to change his name, how about that?
Tommy Fury currently holds a 7-0 record, while Jake Paul sits at 4-0. Of course, Tommy's boxing record comes against actual boxers, while Jake has not fought a single pro-boxer, though he did beat former UFC champ Tyron Woodley, who, to be fair, at that point was on a losing streak, and far from the MMA champ he once was.
Folks, let's be real here: Nobody likes ads, everybody likes raffles and we all wanna feel special. Right? Sign up for MyEarlyGame and you get just that: No ads, the content you wanna see & a chance to win free stuff. No brainer, really.