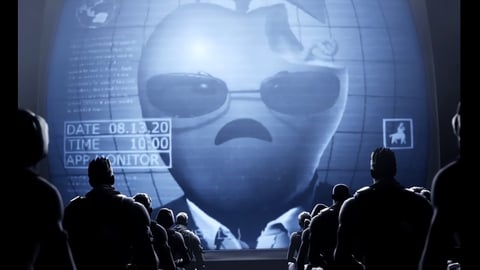 Apple and Google ban Fortnite from their app stores, and Epic Games starts a riot. The great battle of gaming and smartphone giants has begun.
And we thought the era of scandal ended with the Twitch bans. But no! Epic offers discounts in Fortnite every now and then when you buy certain items or currency in the game. Since yesterday, everyone can save up to 20% when buying V-Bucks or digital items through Epic Games' new payment portal. This discount applies automatically to PCs and consoles. The difference from previous discount promotions is that this is not a one-time promotion. These new discounts are in fact permanent, although it is somewhat more difficult to obtain discounted prices on mobile phones than on PCs and consoles.
In Fortnite's in-game store on Android, you suddenly see a new option where you can choose to buy something from the Google Play Store or the new Epic direct payment option that leads to Epic's website. Through Epic's payment gateway, you can then pay with a credit card or PayPal account. In itself, this is a fairly self-explanatory setup.
BUT: Epic is in violation of both Google and Apple's stated policies.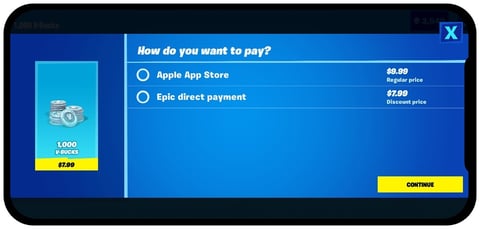 Why Does Epic Games Violate the Guidelines?
Apparently Epic is still strongly resisting the 30% commission Apple and Google receive on in-game purchases. In fact, Fortnite has only been listed on the Play Store since April. Now it seems that Epic still has a few aces up its sleeve to put pressure on both Google and Apple. The new direct payment option was probably just the beginning.
It is worth bearing in mind that Epic isn't seeking any monetary compensation from this lawsuit.

It's all about anti-trust and the monopolistic practices that Apple undertakes to stifle competition on iOS.

Essentially that Apple is the sole means where apps can be distributed. https://t.co/C7dUEFczcX

— Daniel Ahmad (@ZhugeEX) August 13, 2020
Apple's Answer to Epic's Plot
Apple acted quickly and did not put up with the new payment option. The game was removed from the iOS App Store and Apple informed The Verge in a statement that they will not create a "special arrangement":
Today, Epic Games took the unfortunate step of violating the App Store guidelines that are applied equally to every developer and designed to keep the store safe for our users. As a result their Fortnite app has been removed from the store. Epic enabled a feature in its app which was not reviewed or approved by Apple, and they did so with the express intent of violating the App Store guidelines regarding in-app payments that apply to every developer who sells digital goods or services.
So it's all a breach of our security that Apple fears? We do have some doubts. The Epic payment option should also be secure, but unfortunately, Apple does not benefit from this. At least it's nice that they're pushing user security:
Epic has had apps on the App Store for a decade, and have benefited from the App Store ecosystem - including its tools, testing, and distribution that Apple provides to all developers. Epic agreed to the App Store terms and guidelines freely and we're glad they've built such a successful business on the App Store. The fact that their business interests now lead them to push for a special arrangement does not change the fact that these guidelines create a level playing field for all developers and make the store safe for all users. We will make every effort to work with Epic to resolve these violations so they can return Fortnite to the App Store.
Epic Was Prepared for This
In the meantime, Epic Games has gone on the offensive to put Apple in the worst possible light. Yesterday evening Fortnite spontaneously announced that a short film would be played in Party Royale mode, entitled "Nineteen Eighty-Fortnite". All other players got to see the movie, which suddenly played as a frequency on the screen. At the end of the movie, Fortnite asked the players to stand up against Apple. The rebellion should take place under the hashtag #FreeFortnite.
Some of you may have seen the short movie because it was a reference to Apple's advertisement from 1984.
But Google Did Not Have to Wait Long Either
Only a few hours after Apple Fortnite withdrew from the App Store, Google seems to have followed suit in its Play Store.
Google has also issued a statement about the situation:
The open Android ecosystem lets developers distribute apps through multiple app stores. For game developers who choose to use the Play Store, we have consistent policies that are fair to developers and keep the store safe for users. While Fortnite remains available on Android, we can no longer make it available on Play because it violates our policies. However, we welcome the opportunity to continue our discussions with Epic and bring Fortnite back to Google Play.
The Struggle Will Continue
Finally, Epic Games has filed a lawsuit against Apple, describing the company as "the monster that tries to control markets, block competition and stifle innovation". Epic Games has not yet publicly commented on Google's statement but has reportedly filed a lawsuit against them as well.
Today, Apple said Epic is seeking a special deal, but that's not true. We're fighting for open platforms and policy changes equally benefiting all developers. And it'll be a hell of a fight! https://t.co/R5A48InGTg

— Tim Sweeney (@TimSweeneyEpic) August 14, 2020
It remains to be seen whether Google or Apple will actually ban Fortnite for such a bold move, as the game is undoubtedly a moneymaker. There is no denying that this story is one of the more exciting ones and we are all waiting to see how it turns out.
You can find more news from the world of gaming and esports on EarlyGame.