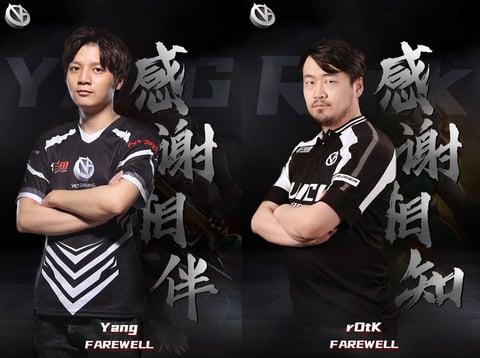 In this new series, we will bring you the latest esports player transfers every second Wednesday evening. This week, we have moves in the Chinese Dota 2 scene. A lot is going on in Dota 2 but with gla1ve's return, there is also stuff happening in CS:GO.
In China, many stars leave their Dota 2 teams - will there be a superstar team soon? In CS:GO Lukas Egholm "gla1ve" Rossander returns to Astralis' active roster, Joshua "Steel" Nissan joins 100 Thieves' Valorant Team and RB Leipzig makes changes to their FIFA roster.
CS:GO: Gla1ve is back, liu switches to North, Edgar "MarKE" Maldonado goes to Chaos Esports Club and Aurimas "Bymas" Pipiras replaces Özgür "w0xic" Eker.
Lukas "gla1ve" Rossander is now part of the active roster again and takes the place of Patrick "es3tag" Hansen.
He's back.#ToTheStars I #ESLProLeague pic.twitter.com/3LQVB9Fvlw

— Astralis Counter-Strike (@AstralisCS) September 3, 2020
Gla1ve already left the active roaster in mid-May due to health problems. His place was then taken by Jakob "JUGi" Hansen, while Emil "Magisk" Reiftook over as in-game leader. With the arrival of es3tag, JUGi was replaced again. Es3tag played during the ESL One Cologne and will now observe, analyze, and support the team from the sidelines to prepare for upcoming games until he gets his next assignment. In the future, es3tag wants to let all seven players play and change the team depending on the opponent and personal performance.
We are definitely looking forward to finally seeing gla1ve in action again.
North: Lekr0 Fills Kjaebye's Gap
After Kjaerbye left the organization in July, Jonas "Lekr0" Olofsson will now take over his job.
Welcome, @Lekr0
Read more: https://t.co/to9abUu3it

— North (@TheNorthIsHere) August 21, 2020
Until recently, Lekr0 played as an in-game leader for NiP and led them to their first major in two years. In May he was benched by NiP after Hampus "hampus" Poser moved from GamerLegion to NiP. At North, Lekr0 will resume his old role as Rifler, but still provide tactical input. With coach Jimmy "Jumpy" Berndtsson, who was already his coach at Fnatic, Lekr0 has a fellow countryman on the team again.
Chaos: MarKE is Coming
MarKE replaces steel after his move to Valorant.
Expect the expected.

We're bringing in someone we believe will bring the right mixture of raw mechanical skill and experience.

WELCOME @MarkeCSGO!

https://t.co/XdbPuIqOIM pic.twitter.com/2IJRRykVSd

— Chaos EC (@ChaosEC) September 1, 2020
MarKE recently played for Ze Pug Godz before they revived Swole Patrole. In Chaos, he is now reunited with his former teammate Anthony "vanity" Malaspina, who has taken over the role of in-game leader.
Mousesports: Bymas Replaces W0xic
Bymas will replace w0oxic on the active roster with immediate effect.
As a direct reaction to our recent results and the ongoing online league play, amid the covid-19 pandemic, we've decided to promote @bymascs to the starting roster to replace @w0xic. pic.twitter.com/XnfYDjvkVk

— mousesports (@mousesports) August 27, 2020
After disappointing results in the last online tournaments getting last place at the ESL One Cologne, mousesports make a roster change. Bymas will replace w0xic from now on and hopefully show better performance. W0xic has to go to the bench for now.
Dota 2: Team Aster, PSG.LGD and Vici Gaming Lose Important Players
Aster: Sccc Does Not Renew His Contract
Song "Sccc" Chun has not renewed his contract with Aster and is now a free agent. Through their Weibo site, the organization announced that the carry-player does not want to renew his contract, which expired in early September. Sccc joined Team Aster just before The International 9 and changed his role from mid-laner to carry. With his aggressive playstyle, he managed to bring the team into the first Majors of the 2019-2020 Dota Pro Circuit.
For the time being it is not clear what Sccc is going to do next, but the Chinese Dota 2 scene is going really well.
PSG.LGD: Somnus and Fy Leave the Team
Xu "fy" Lenses and Lu "Somnus" Yao leave the organization.
It's time to say goodbye!Our captain fy! pic.twitter.com/TeLtueg6S8

— LGD Gaming (@LGDgaming) September 4, 2020
All the best, Maybe! pic.twitter.com/QSHol9mWCc

— LGD Gaming (@LGDgaming) September 4, 2020
This means that two star-players leave the team at once. As captain of the roster since 2017, Fy has been one of the main factors of success for the organization and is considered one of the best position 4 players worldwide. Also, Somnus has been a long-time member of the team since 2014. He is considered one of the best mid-laners and is especially known for his Shadow Fiend, Invoker, and Storm. So PSG.LGD has only three players left and should be looking for replacements quickly, but this shouldn't be too difficult.
Vici Gaming: Yang and RotK Leave

Zhou "Yang" Haiyang and Bai "rOtK" Fan leave the organization.
After being an integral part of VG since 2015, Yang will be leaving the club due to his contract expiring.
We want to thank Yang-God for his long list of contributions to VG and have no doubt, that he will achieve whatever he plans on doing next

https://t.co/xRT8ARWUvI pic.twitter.com/gnZKelYwpS

— VICI Gaming (@VICI) September 1, 2020
We wish rOtk a smooth way forward and a shining light upon his future path as he decides to pursue new challenges.
We want to thank him for his many years of dedication, team efforts and responsibility.

https://t.co/YPIoqW2sCM #Dota2 pic.twitter.com/UT1woBfK8Y

— VICI Gaming (@VICI) September 1, 2020
The off-laner Yang has been part of Vici Gaming since 2015 and his departure comes rather suddenly. The news came shortly after that of Coach rOtk who was also leaving the team. Vici, one of the best-known organizations in the scene, is now without a coach and off-laner.
In the Chinese Dota 2 scene, there is now a rumor that a Chinese superstar team could soon be formed. The organization 4AM announced that they want to join Dota 2 and a list of players' names shows some similarities to the players who recently left Vici Gaming and PSG.LGD:
Zhang "Eurus" Chengjun (aka Paparazi)
Lu "Somnus" Yao
Zhou "Yang" Haiyang
Xu "fy" lenses
Pan "Fade" Yi
Yao "QQQ" Yi
Nothing has been confirmed yet, but the similarities are already very noticeable.
Geek Fam Dota 2 Disbanded
The organization has completely dissolved its Dota 2 roster.
Thank for all the memories that you have given to our DOTA2 Team Fam, We appreciate it.

Once a Geek, Always a Fam. pic.twitter.com/VAg6PT5d7u

— Geek Fam (@TeamGeekFam) September 4, 2020
Geek Fam is already the second organization in SEA to dissolve their Dota 2 roster. The dissolution came as a surprise, as the organization had established itself as one of the strongest teams in the region. The decision was justified with the Corona Pandemic because many tournaments were canceled, and the organization can no longer hold the roster. Karl "Karl" Jayme, Carlo "Kuku" Palad, Kenny "Xepher" Deo, and Matthew "Whitemon" Filemon are now free agents.
We wish them all the best and that they find a new team quickly.
Valorant: T1 Loses Two Players and Steel Switches to 100 Thieves
T1: Crashies and Food Were Dismissed
Austin "crashies" Roberts and Victor "food" Wong have left T1's Valorant Roster
Today we say goodbye to @food_cs and @Crashies.

We're thankful for all the work they put into the team and wish them the best for the future. pic.twitter.com/gHX5CORJDi

— T1 (@T1) September 3, 2020
T1 was one of the first organizations to have a Valorant team, but has had rather poor results. At the Valorant Pop Flash Tournament, they were eliminated in the group phase. At the end of August, star player Tyler "Skadoodle" Latham was put on the bench. Crashies and food are now free agents and in search of a new roster. We wish them good luck in the future.
100 Thieves: Another CS:GO Pro is Coming
Joshua "steele" Nissan leaves his CS:GO team at Chaos and switches to the Valorant Roster of the 100 Thieves.
Announcing the newest addition to our VALORANT roster: Steel.@JoshNissan is an incredibly skilled & talented player from the Counter-Strike scene. We're so excited to start a new chapter of his competitive career with him in VALORANT. Welcome to 100 Thieves! #100T pic.twitter.com/qZyGKhnZG4

— 100 Thieves (@100Thieves) September 4, 2020
After having already signed the former CS:GO professionals Nicholas "nitr0" Cannella and Spencer "Hiko" Martin, the third one follows. Steel played in Chaos before but never had the chance to play CS:GO at the highest level as he was banned from all Valve tournaments due to the iBUYPOWER scandal. Like his former teammate Brax, he is now looking to Valorant. But before he can start, the team is still missing two more players.
FIFA: RB Leipzig Restructured
The new Esports department is now called RBLZ Gaming and already removed two players Cihan "Cihan" Yasarlar and Alexander "Czapi" Czaplok.
RBLZ.
Don't doubt.
Dare!

76 | @rblz_anders
18 | @rblz_lena
10 | @rblz_gaucho
62 | @rblz_umut
| @rblz_daniel

LIVE press conference: https://t.co/VolAYhCcf8#rblz #rblzgaming #rbleipzig #esports#fifa #fifa20 #fifa21 #fifaultimateteam #ultimateteam #fut20 pic.twitter.com/0YMxhHf0vD

— RBLZ GAMING (@rblzgaming) September 8, 2020
The new team will be built around FIFA professional Richard "Der_Gaucho10" Hormes, who had previously played for Borussia E-Sports and reached the quarterfinals of the VBL. Besides Hormes, the 17-year-old former HSV player Umut "RBL_UMUT" Gültekin, the 14-year-old talent Anders "RBL_Anders" Vejrgang, and the first woman in the VBL, Lena "RBL_Lena" Güldenpfennig, were announced as new teammates.
That was it for this week. Everything from the world of gaming and esports can be found on EarlyGame. Until then, you can catch up on all your past transfers here.