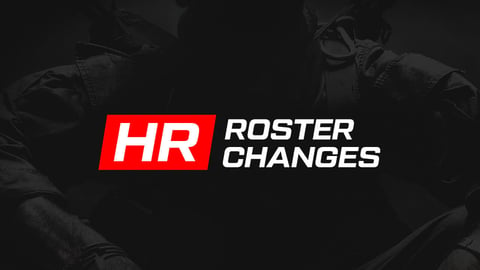 Every two weeks we show the most important esports player transfers in our series: the latest roster changes, player contracts or dismissals. The last two weeks have been busy again.
In the CS:GO esports scene a lot has happened, but we also see more and more organizations preparing for the launch of Riot Games tactical shooter Valorant.
CS:GO
HellRaisers
The HellRaisers part with two players and send the rest to the bench - one of whom then decides to leave. The organization announced earlier this month that Igor "crush" Shevchenko will leave the team and they will also part with Kirill "ANGE1" Karasiow.
HellRaisers CS:GO Roster Changes.

https://t.co/NaapxaRj8D pic.twitter.com/DI76Kpcib2

— HellRaisers Esports (@HELLRAISERSgg) April 2, 2020
Žygimantas "nukkye" Chmieliauskas, Vadim "Flarich" Karetin and Ivan "AiyvaN" Semenets were put on the bench. HellRaisers planned on building a new CS:GO squad with these three players, but nukkye left as he no longer wanted to play in this team. Recently, he announced on Twitter that he is looking for a new team.
ANGE1 was the in-game leader of the HellRaisers team for over six years - an eternity in esports, especially in CS:GO. He always managed to keep the changing rosters together, but lately, he had a hard time doing so with the current one. In any case, it'll be exciting to see how it will go on for HellRaisers in CS:GO.
AVANGAR
AVANGAR dismisses its entire CS:GO team. The quite young team existed only since 2017, won a trophy at the BLAST Pro Series Moscow 2019 and made it to the final of the Starladder Major Berlin. The former roster was sold to Virtus.pro in 2019 and the new, purely Kazakh, team was dissolved after only three months.
On this day usually full of laughs we want to say goodbye. On April 1st of 2020 AVANGAR ceased its operations to focus on building and developing esports venues in Qazaqstan. The initial decision was so hard to make after all 3 years of our legacy. pic.twitter.com/YMoSEnSGye

— AVANGAR #QazaqAttack (@avangarkz) April 1, 2020
AVANGAR is withdrawing completely from the competitive CS:GO scene and will instead concentrate on developing esports events in Kazakhstan.
Evil Geniuses
Evil Geniuses dismissed their trainer Chet "ImAPet" Singh, who only took up his job at EG in September last year. He led the team to several wins and top 4 places.
Today we say goodbye to our CS:GO coach Chet. Since joining EG in September, he has provided amazing support to our team - leading us to multiple 1st place finishes.

We're thankful to Chet for everything and he will always be part of the family. pic.twitter.com/emC4kEpYiv

— Evil Geniuses (@EvilGeniuses) April 4, 2020
As it became known there were probably tensions between Singh and the two players Peter "stanislaw" Jarguz and Tarik "tarik" Celik. Since it is easier to replace a coach than to tear apart an existing team, this eventually led to the decision to dismiss Singh. In any case, we wish him all the best for the future.
Not even a week later, EG found a replacement for Singh. The former coach of the mibr roster, Wilton "zews" Prado, will now take over the CS:GO roster from EG.
Please join us in welcoming @Zews to the Evil Geniuses family! With a long and illustrious history as both a pro player and a coach, Zews has his sights set on the #1 spot in the ESL Pro League and beyond. #LIVEEVIL pic.twitter.com/9TVLUtsOwO

— Evil Geniuses (@EvilGeniuses) April 10, 2020
Zews already coached stanislav during his time with Team Liquid and stanislav announced even then that he was not on the same wavelength as the coach. So it remains to be seen if he can make friends with zews this time.
Team Secret
After Secret Rigon "rigon" put Gashi on the bench already in mid-January and played with Vincent "Happy" Schopenhauer as a stand-in, they have finally found a permanent replacement. Martin "PERCY" Wessel will take over the role of the in-game leader from now on.
Welcome to the squad @Secret_PERCY!

Those who have been following our CS:GO squad won't be surprised by this new addition. Percy proved himself as the shot caller that we need.

We would like to thank rigoN and wish him well for his future endeavors.#SecretCSGO pic.twitter.com/6ePVXV8FnA

— Team Secret (@teamsecret) April 12, 2020
The Dane already played a few matches in the LOOT.BET Season 6 Qualifier with Team Secret and will stay now. It is the first non-Danish team PERCY has played with since 2018, after having been under contract with Tricked and Maknitude.
Heroic
The organization announced the departure of coach Frederik "LOMME" Nielsen.
Today we announce the departure of Frederik "LOMME" Nielsen.

He has brought in a lot of structure and new skills to the roster and we could not be more grateful for the work he has put in together with the team.

We wish him all the best and good luck in his future endeavours! pic.twitter.com/pvVHe3cczB

— HEROIC (@heroicgg) April 13, 2020
Heroic originally wanted to sell their CS:GO roster to FunPlus Phoenix, but this fell through after Patrick "es3tag" Hansen joined Astralis. After that the team went through numerous changes and is still one player short. In all the confusion LOMME decided to leave Heroic.
Dota 2
Virtus.pro
For a change no layoffs - Virtus.pro announced a second Dota 2 roster. VP.Prodigy consists of Egor "epileptick1d" Grigorenko, Dmitry "DM" Dorokhin, Vitaly "Save-" Melnik, Albert "yume" Garaev and until they find a fifth Rostislav "fn" Lozovoy who serves as a stand-in.
Welcome our second Dota 2 squad - VP.Prodigy!

- Egor "epileptick1d" Grigorenko (carry);
- Dmitry "DM" Dorokhin (offlane);
- Vitaly "Save-" Melnik (support 4);
- Albert "yume" Garaev (support 5);
- Rostislav "fn" Lozovoy (mid, stand-in). pic.twitter.com/m2YJlmlM2e

— Virtus.pro (@virtuspro) April 1, 2020
According to Virtus.pro General Manager Sergey Glamazda, the idea for a second Dota 2 roster had been around since January. The goal is to give young players the chance to gain experience in the Esports professional scene without the pressure of having to deliver good results immediately. The players from the second team should be able to move up to the first lineup in the long run or replace it if necessary. The name VP.Prodigy was also chosen because "Prodigy" literally means a young talented person.
Ninjas in Pyjamas
NiP separates from Saahil "UNIVERSE" Arora Because of the Corona crisis the organization feels forced to make changes.
Due to the situation with COVID-19 and the consequent move to regional competition, we are forced to restructure our line-up in @DOTA2 to ensure continued practice and competition.

Read more at https://t.co/K4gsp0wv8l#GONINJAS #DOTA2 pic.twitter.com/NLKJdaAgfz

— Ninjas in Pyjamas (@NIPGaming) April 7, 2020
Since traveling is hardly possible at the moment and most tournaments are becoming more and more regional, NiP wants to set up their Dota 2 roster accordingly. The goal is to build a team that can last longer than one TI cycle. In order to achieve this, a regional team is necessary, which is why Saahil is thanked and wished the best, but has to find a new place now.
Valorant
Ninjas in Pyjamas
NiP is one of the first organisations to sign a Valorant roster. They reactivate their original Paladins-Roster, which was dissolved back in November.
Our journey in @PlayVALORANT begins https://t.co/BtigrRrLoc

Welcome back
SE @Officialbonkar
NO @isbittenner
BG @alexsuchev
AU @DiGeDoG

SE @Omgimabird (Coach)#GONINJAS #VALORANT pic.twitter.com/BjdMrnyiuj

— Ninjas in Pyjamas (@NIPGaming) April 8, 2020
Paladins is also a hero shooter, but with less realistic weapon mechanics. The complete team consists of Malkolm "bonkar" Rench, Leander "isbittenner" Aspestrand, Aleks "Alex" Suchev, Dylan "DiGeDoG" Chainski and Erik "Bird" Sjösten. Let's see how former Paladins pros do in Valorant.
Cloud9
Cloud9 is also preparing for the launch of Valorant and announced Tyson "TenZ" Ngo as their first Valorant professional.
Super excited for the next steps in my career and what the future holds!
going live on twitch now https://t.co/z3lOKmoYCd https://t.co/EivlowqLpa

— TenZ / Tyson (SEN) (@TenZOfficial) April 12, 2020
TenZ was originally intended to be a CS:GO streamer for C9, but now focuses on Valorant. Many support his change, but there are also critical voices that say that it's far too early to sign professional players, as the game hasn't even been released yet. It remains to be seen which players will complete the roster.
Fortnite
Cloud9
C9 announced the departure of Fortnite professional Nicksfps. More details are yet to come.
US Today, we announce the departure of @Nicksfps from #C9FN. Thank you and we wish you nothing but the best in your future endeavors!

BR Hoje anunciamos a saida do @Nicksfps da #C9FN. Obrigado por tudo e desejamos boa sorte no futuro! pic.twitter.com/AUQ7whjaY6

— Cloud9 (@Cloud9) April 13, 2020
These were the most important transfers of the last two weeks. It will be particularly exciting in the coming weeks to see how the Valorant professional scene develops. Many organizations are already preparing their Valorant rosters, while others are still waiting. Until we know more, you can find all news about Valorant and catch up on the last part of the player transfers.