Brazilian Alex Sandro from Juven... um, Piemonte Calcio is already one of the strongest left backs in FIFA 20 with his gold card. His Player Moments SBC card takes it way back to his 2011 Copa Libertadores heroics and quite franly, it ain't one you want to miss out on.
The Alex Sandro Moments SBC card
Position: LB
Nation: Brazil
League: Italian Serie A
OVR: 91
Weak foot: 3 stars
Skills: 3 stars
Price: approx. 550,000 coins
Expiry: No
The strengths of the card
The defender's special card comes with a 91 OVR, which is quite impressive on its own. High values for pace (91), defense (89) and physique (91) give Alex Sandro the perfect tools to be a stalwart on the left side of your defense.
Decent short pass and dribbling scores, paired with his pace, mean the Brazilian can be employed in attack too. In combination with the right chemistry style Sandro gets a 95 rating and should be a valid option on the left side of your back line until FIFA 21 rolls around.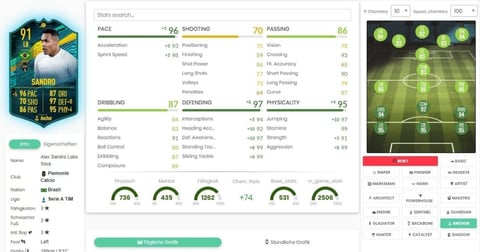 Is the Player Moments Alex Sandro SBC worth it?
There are only three players in FIFA 20 who are better at this position, all of whom are much more expensive. So you tell me, is it worth it?
Prime Icon Roberto Carlos, for example, currently costs almost 740,000 coins, while his Moments card costs twice as much. The strongest LB in FUT is the TOTY card of Liverpool's Andrew Robertson, which also costs around 710,000 coins. So yeah, point for point, Alex Sandro is a pretty good deal.
Perhaps the biggest advantage of Alex Sandro are his links. While Robertson links exclusively to Premier League players because of his nationality and league, Sandro, as a Brazilian, already offers considerably more options. There are some outstanding central defenders to throw right next to him and a link to Neymar is not to be sneezed at, is it? Sandro's colleagues from Piemonte Calcio, including TOTY Mathias De Ligt, are also excellent options.
The cheapest Alex Sandro SBC solution
Around 550,000 coins are necessary for this SBC, divided into three squads that must be handed in. These include:
Brazil team with an 86 rating (at least 75 chemistry)
Serie A team with an 86 rating (at least 70 chemistry)
Team with a total score of 86 (at least 75 chemistry)
The cheapest solution, as with any SBC, is of course to use players from your own squad who are not needed for your own FUT team. Not an option? Here are the currently cheapest solutions for the three teams.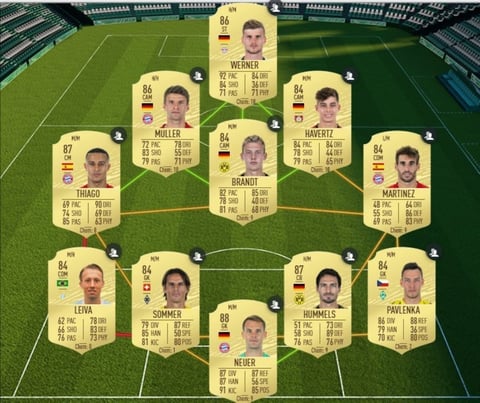 Team 1: Brazil
We have decided on a Bundesliga team here, as the players are currently available at low prices and provide the necessary chemistry. Since only one Brazilian is needed, we simply use Lucas Leiva from Lazio to easily meet all requirements. The price for the team is currently around 180,000 coins.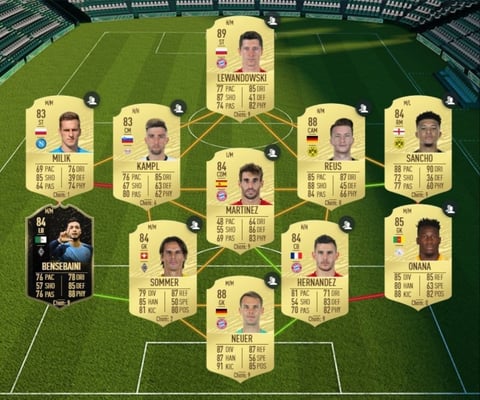 Team 2: Serie A
Here, too, a Bundesliga team is a good choice, but since five points less chemistry has to be achieved, there are additional opportunities to save some money. Since an in-form player is needed, it is recommended to use Ramy Bensebaini, who only has 15,000 coins to his name.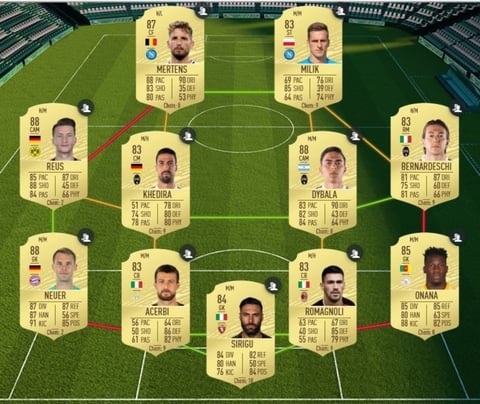 Team 3: 86 team
An overall rating of 86 with a chemistry of 75 offers numerous possibilities, which are narrowly met with this team. All red links are balanced by perfect green links. It fits.
If all of this is rather confusing, you can update your FUT knowledge first and come back to the Alex Sandro Moments SBC later.