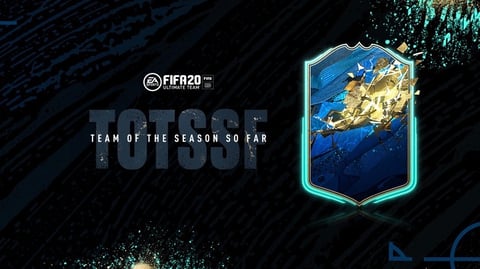 After announcing the Premier League Team of the Season So Far (TOTTSSF) last week, it's the turn of the Spanish top tier, and there's plenty for gamers to get excited about.
Introducing 23 new, top La Liga cards
La Liga TOTTSSF was unveiled on Friday and the star-studded line-up is based on players' performances in the Spanish top-flight over the 2019/20 season.
Of the 23 players brought out on Friday, 20 are available in packs until next Friday, May 15, while three can be earned via Squad Building Challenges (SBC) and Objectives.
What a campaign! While we wait for what's next, we celebrate the @LaLigaEN Team of the Season So Far! #TOTSSF #FUT20 pic.twitter.com/HDTxrbztzK

— EA SPORTS FIFA (@EASPORTSFIFA) May 8, 2020
The Community Team of the Season (CTOTSSF), which was unveiled two weeks ago, also included five La Liga players, meaning that there have been 28 TOTTSSF cards brought out for Spanish top-flight teams.
What are the highlights of TOTSSF?
Unsurprisingly, it's Lionel Messi who steals the show with a 99-rated card. Despite the impressive rating, it is the same ranking as his Team of the Year (TOTY) card, so the latest version doesn't offer gamers any new incentives.
On the other hand, three 97-rated players will leave plenty of gamers drooling. They come in the form of Raphael Varane, Karim Benzema and Luis Suarez and are the three highest-rated La Liga cards on FIFA 20, bar Messi, of course.
READ MORE: Premier League TOTSSF offers new challenges
In fact, prior to this week, there were only three non-Messi cards from La Liga ranked higher than 93. However,12 have been included in TOTTSSF, meaning there really is room for those with a Lia Liga team to improve their sides.
Who else is on offer?
Friday's additions are full of top cards and offer real improvements to the previous best La Liga players.
New goalkeeper cards for Jan Oblak (96) and Marc-Andre Ter Stegen (95) mean they're among the best keepers available on FUT.
Meanwhile, Carlos Carvajal (94) is the new highest-rated La Liga card for a right-back, and Sergio Ramos's 96-ranked card is his highest tally in FIFA 20.
However, it's in midfield where TOTTSSF has the most variety, and the highlight of players on offer include 96-rated Toni Kroos and Nabil Fekir - two of the top six icon cards for center-midfielders.
Other intriguing cards include Krenkie De Jong (94) and Santi Cazorla (94), while Antoine Greizmann (96) is now the highest-ranked left-winger in FUT after Sadio Mane.
Other La Liga TOTTSF players
TOTTSSF includes two challenging and rewarding Objectives. Valencia's Sergio Reguilon can be achieved by completing four challenges in Rivals matches and, at 92, he would be a great addition for any side.
The Spaniard is actually the third highest-ranked left-back in the game, after Andrew Robertson and Roberto Carlos.
Also on offer via Objectives is Mariano (89), who can be achieved by completing four challenges on Squad Battles.
Like Premier League TOTTSSF, this week's La Liga edition has offered an SBC in the form of Saul Niguez (93).
Senor Clutch.

Atleti's engine in the middle of the pitch, Saul's #TOTSSF SBC is now live in #FUT20 pic.twitter.com/FmEPPzE06T

— EA SPORTS FIFA (@EASPORTSFIFA) May 8, 2020
While 23 TOTTSSF players were brought out this week, five were included in CTOTTSSF two weeks ago, the highlights of which were Gerard Pique (93) and Sergio Busquets (93). Kieran Tripper (90) was also included in CTOTTSSF, as a SBC which has now expired.
Full La Liga TOTSSF squad
GK: Oblak- 96 (Atletico Madrid)
GK: Ter Stegen- 95 (Barcelona)
GK: Courtois- 93 (Real Madrid) CTOTTSF
CB: Varane- 97 (Real Madrid)
CB: Ramos- 96 (Real Madrid)
CB: Pique- 93 (Barcelona) CTOTTSF
CB: Carlos- 91 (Sevilla)
RB: Carvajal- 94 (Real Madrid)
RB: Trippier- 90 (Atletico Madrid) CTOTTSF SBC
LB: Reguilon- 92 (Sevilla) Objectives
LB: Berchiche- 89 (Athletic Bilbao)
CDM: Busquets- 93 (Barcelona) CTOTTSF
CDM: Casemiro- 92 (Real Madrid) CTOTTSF
CM: Kroos- 96 (Real Madrid)
CM: Cazorla- 94 (Villarreal)
CM: De Jong- 94 (Barcelona)
CM: Parejo- 93 (Valencia)
CM: Saul- 93 (Atletico) SBC
CM: Odegaard- 92 (Real Sociedad)
CAM: Fekir- 96 (Real Betis)
RM: Moreno- 93 (Villarreal)
RW: Messi- 99 (Barcelona)
RW: Ocampos- 88 (Sevilla)
LW: Greizmann- 96 (Barcelona)
CF: Benzema- 97 (Real Madrid)
ST: Suarez- 97 (Barcelona)
ST: Mariano- 89 (Real Madrid)
ST: Perez- 88 (Alaves) Objectives
If you love FIFA like us, check out the latest news about FIFA 21 and as always keep it here, with EarlyGame.