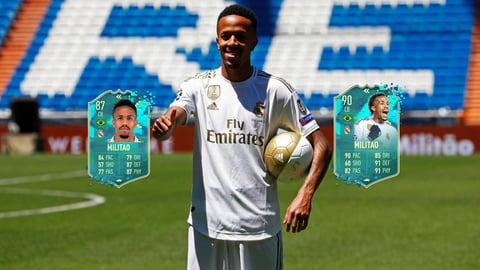 At the start of the season, Brazilian central defender Éder Militão switched from FC Porto to Real Madrid. Although the 22-year-old has yet to make his mark in the Spanish La Liga, he has been one of the best options on the FUT market from his league and in his position.
EA Sports have recognized this and released not one, but two Éder Militão SBC cards – one regular and one Premium. Let's see how much they're worth and how to make the most out of the SBC witout spending much ourselves.
The Éder Militão gold card was one of the strongest central defenders at the start of FIFA 20, followed by the UCL Live card, which is still part of the basic equipment of many teams. Just in time for the FIFA 20 TOTSSF, the Brazilian gets not only one, but two special cards.
The Éder Militão Flashback SBC card(s)
Position: CB
Nation: Brazil
League: Spanish La Liga
OVR: 87 / 90
Weak foot: 2 stars
Skills: 2 stars
Price: approx. 260,000 coins/approx. 570,000 coins
Expiration: May 19/no expiry
Let the great centreback debate begin

Flashback Eder Militao and Flashback Eder Militao (Premium) SBCs are available now in #FUT20 pic.twitter.com/xQiStuLzel

— EA SPORTS FIFA (@EASPORTSFIFA) May 12, 2020
The Éder Militão Flashback card is available in two versions. One has an overall rating of 87, which is one point higher than his UCL live card, the other – a pedestrian 90.
Militão's strengths are in full display – speed, agility, physicality and of course – defense. A solid addition to the center of your defense for sure.
Is the card worth it?
The 87 version costs around 260,000 coins, the 90 version is almost double the amount of coins. Fellow countryman Diego Carlos of Sevilla achieves a 91 overall rating with his La Liga TOTSSF card and is minimally superior to the stronger Militão version for about the same price.
On the other hand, David Luiz's Flashback SBC at the beginning of January was about as expensive as the 90s version of Militão. So the price is absolutely fair, but in our opinion the 87 card is completely sufficient. If you have 600.000 coins on the side, of course, feel free to invest – you'll secure a top central defender until the end of FIFA 20.
Cheapest solution
90-rated Flashback Éder Militão costs just under 570,000 coins, for which a total of three teams must be submitted:
Brazil team (86 rating, at least 70 chemistry)
Real Madrid team (86 rating, at least 70 chemistry, at least 1 In-form)
88 rating team (at least 55 chemistry)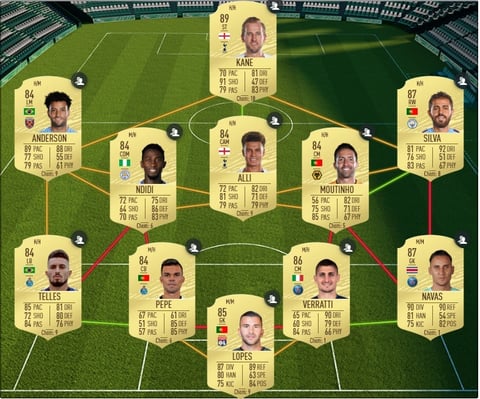 Team 1: Brazil
140,000 coins are accounted for by this SBC alone. We choose a hybrid team from the French League 1 and some strong Portuguese players. Striker Harry Kane with an 89 rating provides an enormous boost, Alex Telles and Felipe Anderson meet the nation requirement.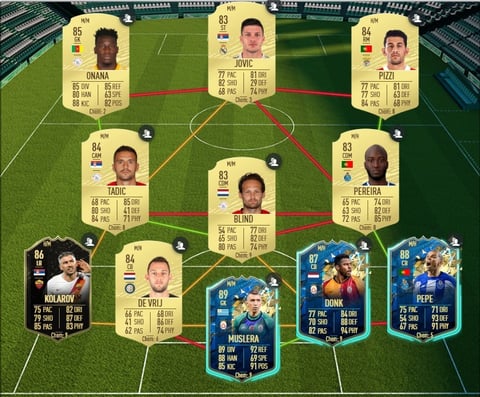 Team 2: Real Madrid
The second SBC is minimally more expensive. Mainly due to the In-form or TOTW Moments requirement. We're putting the pedal to the metal in defense with three TOTSSF cards from the Turkish Super League or the community selection, and we're adding the second In-form card with Aleksandar Kolarov. With this all requirements are fulfilled, the rest of the team doesn't cost 30,000 coins.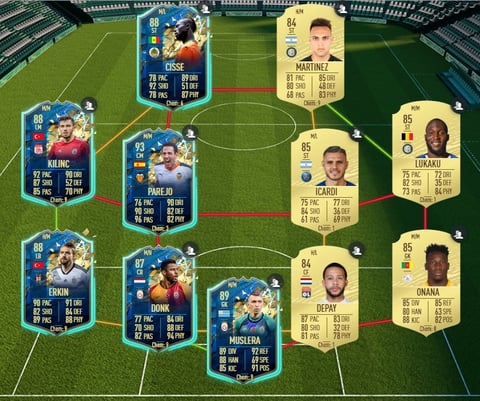 Team 3: 88 rating
By far the most expensive team of the SBC. Around 275,000 coins are needed for this alone. An 88 rating is enormous. Fortunately, some extremely strong TOTSSF cards of smaller leagues are already available on the transfer market at an affordable price - especially those of the Turkish league. With a little pack luck, the price can be pushed down enormously, but otherwise, it's an expensive one.
If you manage all three teams, congratulations, you've added one of the best La Liga CBs in FIFA 20. Another young La Liga star – Ansu Fati, was available through an SBC recently. Did you get him?