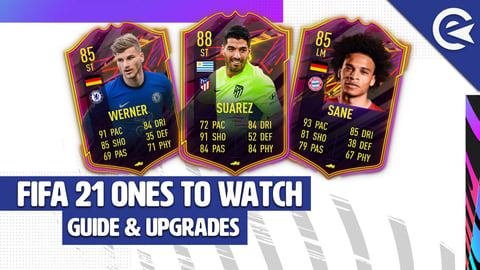 Every year the Ones To Watch are among the most popular special cards in FUT mode. In FIFA 21 Ultimate Team you can expect more OTW cards than ever before. We give you an overview of all players and their changes during the season.
For the hottest summer transfers, EA Sports offers a special Ones To Watch card in FIFA Ultimate Team mode every year. These dynamic cards increase each time the player makes it into the Team of the Week, so you can enjoy a performance boost for the special card. We have an overview of all FIFA 21 Ones To Watch and keep you up to date about the changes.
READ MORE:
January 14 Update
After a long time without any updates, we finally have something to report. It's Achraf Hakimi that makes a return for a second boost. The Inter midfielder now stands at 86 OVR with 96 pace. It is his shooting that is improving the most - a significant +3 increase. Those that got him back when he became a One To Watch must be pleased!
The Rating Boosts for Achraf Hakimi
+1 pace
+3 shooting
+1 passing
+1 dribbling
+1 defence
+1 physical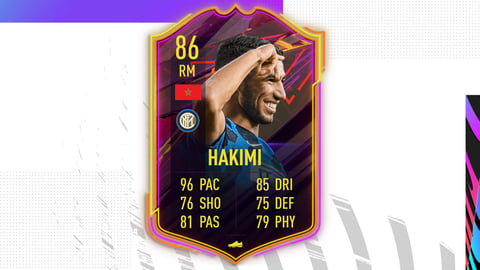 November 19 Update
Two Ones to Watch upgrades for the Italian Serie A. Inter's Achraf Hakimi and Arturo Vidal have made it into the FIFA 21 TOTW 8. Both cards increase by two points and reach 85 OVR after the boost.
Although Vidal still lacks a little pace, the Chilean player consolidates his position as one of the best and most versatile midfielders in FIFA 21, especially in Serie A. Hakimi's card is also becoming more and more interesting.
The Rating Boosts for Achraf Hakimi
+1 pace
+3 shooting
+3 passing
+2 dribbling
+2 defence
+2 physical
The Rating Boosts for Arturo Vidal
+2 pace
+3 shooting
+2 passing
+2 dribbling
+2 defence
+2 physical
November 12 Update

Chelsea's players have had it good in FIFA 21 so far. The dynamic Ones To Watch cards keep getting boosted thanks to TOTW appearances. The latest Blue to get that sweet rating increase is center back Thiago Silva. The veteran is still on the slow side of the spectrum, which could be a problem, but almost no one can outdo him in the defence department.
The Rating Boosts for Thiago Silva
+1 pace
+1 shooting
+2 passing
+2 dribbling
+1 defence
+1 physical
November 5 Update
Chelsea's Hakim Ziyech is the only Ones to Watch player to make it into the current team of the week - FIFA 21 TOTW 6. This brings his dynamic card up to 86 OVR.
Nélson Semedo (Wolverhampton Wanderers) and Gareth Bale (Tottenham Hotspur) also had high chances to get an In-form card, which caused a rapid increase of their values on the FIFA 21 transfer market. In the end, both were left empty-handed by EA Sports.
The Rating Boosts for Hakim Ziyech
+2 pace
+2 shooting
+1 passing
+1 dribbling
+1 defense
+1 physical
October 22 Update

Timo Werner (Chelsea), Victor Osimhen (Napoli) and Alessandro Florenzi (Paris Saint-Germain) made it in FIFA 21 Team of the Week 4. This means that their OTW cards also increased their values. Werner gained one point (86 OVR), Florenzi (84 OVR) and Osimhen (82 OVR) - three points each.
Keep reading for the original article!
FIFA 21 Ones To Watch: The Hottest FUT Cards
Since an OTW card in FUT 21 could theoretically increase in rating every week, the special cards are extremely popular among players. This year, there are two OTW teams, and they are available in card packs until October 23. After that, you can only get the desired players by buying them on the transfer market.
Here you can earn some virtual coins: If a FIFA 21 OTW player is injured, the ticket prices will drop. If you then buy them and the player receives an In-Form card after his return, you can expect a substantial bonus.
FIFA 21 OTW vs TOTW: What is the Difference?
TOTW cards (Team of the Week) are released every Wednesday at 19:00. These are the so-called In-Form variants that a player gets if he has shown strong performance on the real football field.
A TOTW card has improved values compared to the normal Gold version but is not dynamic. Here you have to buy every new TOTW card that appears to get the best possible version.
The OTW cards are different: These cards increase in value each time a player receives an Inform card. So, the initial purchase price in most cases is much more expensive, especially in the Premier League. But you save the purchase of additional special cards.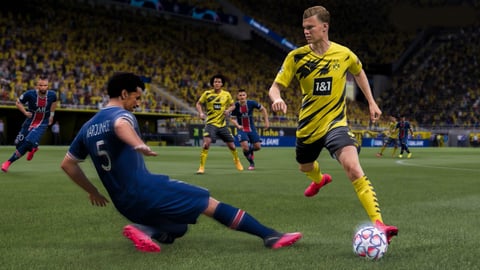 All FIFA 21 OTW Cards at a Glance
Two Ones To Watch teams await you in FIFA 21 Ultimate Team, which includes exchangeable special cards. You can also earn additional OTW players via Squad Building Challenges or Objectives - but they are not exchangeable and cannot be traded.
English Premier League
CM: Thomas Partey (Arsenal) – 83 OVR -> 86 OVR (October 14)
CAM: Hakim Ziyech (Chelsea) – 85 OVR -> 86 OVR (November 4)
CAM: Kai Havertz (Chelsea) – 85 OVR
ST: Timo Werner (Chelsea) – 85 OVR -> 86 OVR (October 21)
CM: Thiago Alcántara (Liverpool) – 85 OVR
LB: Alex Telles (Manchester United) – 84 OVR
RW: Gareth Bale (Tottenham Hotspur) – 83 OVR
CM: Donny van de Beek (Manchester United) – 83 OVR
RB: Nélson Semedo (Wolverhampton Wanderers) – 83 OVR
CM: Allan (Everton) – 83 OVR
ST: Rodrigo (Leeds United) – 82 OVR
RM: Ferrán Torres (Manchester City) – 82 OVR
CB: Nathan Aké (Manchester City) – 79 OVR
Objective:
LW: Diogo Jota (Liverpool) – 80 OVR
SBC:
CB: Thiago Silva (Chelsea) – 85 OVR -> 86 OVR (November 11)
Spanish La Liga
ST: Luis Suárez (Atlético Madrid) – 88 OVR
CAM: Martin Ødegaard (Real Madrid) – 83 OVR -> 85 OVR (October 14)
German Bundesliga
LM: Leroy Sané (Bayern München) – 85 OVR
SBC:
ST: Hwang Hee-Chan (RB Leipzig) – 77 OVR
Italian Serie A
CM: Arthur (Juventus/Piemonte Calcio) – 84 OVR
RM: Achraf Hakimi (Inter) – 83 OVR -> 85 OVR (November 18)
CM: Arturo Vidal (Inter) – 83 OVR -> 85 OVR (November 18)
ST: Victor Osimhen (Napoli) – 79 OVR -> 82 OVR (October 21)
SBC:
CDM: Sandro Tonali (AC Milan) – 77 OVR
French Ligue 1
RB: Alessandro Florenzi (Paris Saint-Germain) – 81 OVR -> 84 OVR (October 21)
ST: Jonathan David (Lille) – 77 OVR
Read more about FIFA 21 and esports on EarlyGame. We introduce you to FIFA 21 La Liga POTM Ansu Fati SBC Solution and FIFA 21: 4 Strong Formations & Tactics