This week marks the return of FIFA Ultimate Team Headliners as EA Sports announced the first crop of players to join the dynamic mode.

What is Headliners?
For those unfamiliar with Headliners in FIFA FUT, it is a bunch of players selected based on their current form and/or potential development throughout the season. The dynamic system takes into account whether the player has recently switched clubs, is going to be under a new manager, new tactics, etc.
Headliners equips these players with unique dynamic items that are permanently upgraded, with separate potential upgrades based on both individual and team performances in the course of the season.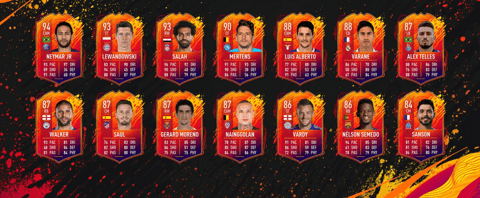 Here is an extract of EA's note accompanying the announcement to clarify further how it works:
"At the launch of the event, each FUT 20 Headliners player item is released at one in-form upgrade higher than their latest qualifying performance based In-Form (TOTW, MOTM, Hero, Record Breaker or Team of the Group Stage item) or their base item.
Each time a Headliner gets a performance based In-Form, their Headliner item will also receive an In-Form upgrade. This ensures that their Headliner item will always stay one in-form ahead for the remainder of the season.
In addition, FUT 20 Headliners will also receive an additional one-time permanent upgrade if their club achieves four back-to-back wins during the remainder of the domestic league season. If this occurs, the Headliners item will remain two In-Forms ahead of their last performance-based In-Form throughout FUT 20, making Headliners one of the most powerful and dynamic player items ever!"
FIFA FUT 20 Headliners: First List
The first 14 players to make the headlines, pardon the pun, are:
Neymar – 94 OVR – PSG
Robert Lewandowski – 93 OVR – Bayern
Mohamed Salah – 93 OVR – Liverpool
Drijs Mertens – 90 OVR – Napoli
Luis Alberto – 88 OVR – Lazio
Raphael Varane – 88 OVR – Real Madrid
Alex Telles – 87 OVR – Porto
Kyle Walker – 87 OVR – Manchester City
Saul Niguez – 87 OVR – Atletico Madrid
Gerard Moreno – 87 OVR – Villarreal
Radja Nainggolan – 87 OVR – Cagliari
Jamie Vardy – 86 OVR – Leicester City
Nelson Semedo – 86 OVR – Barcelona
Morgan Sanson – 84 OVR – Olympique de Marseille
The second group of FIFA FUT Headliners will arrive on January 24. Some additional Headliners are also going to creep their way into some Squad Building Challenges and set objectives, so you better keep your eyes peeled!