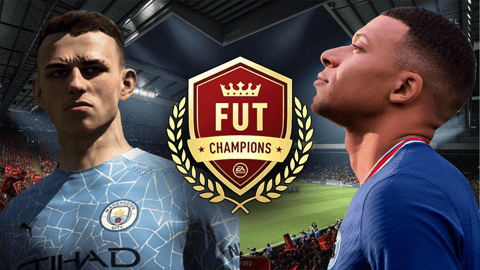 Now that almost all ratings are out, we can concentrate more and more on the finished teams for FUT. Today we start with the best squad for FIFA 22. Who do we have in our starting XI? Let's take a look!

Of course, we hope that you won't meet such a team in the first Weekend Leagues. But we can say from the past: Unfortunately, pay-to-win players are always there. But let's have a look at the squad, there are still a few weeks until the first Weekend League.

The best Team in FIFA 22
First of all, it is important to mention that there are of course many different ways to build the team. And that we can't yet say for sure what the meta will be in FIFA 22. However, based on the last few years and the already known ratings, we already trust ourselves to build the best team for FIFA 22 relatively precisely. So let's see: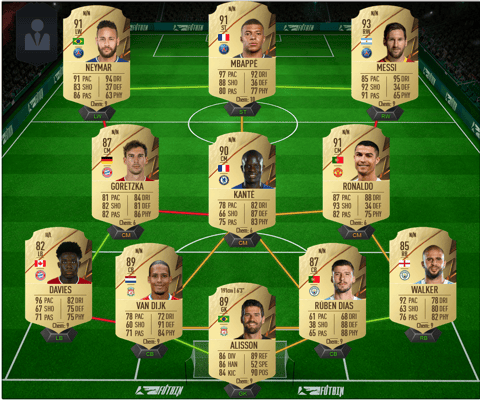 What an outstanding team. In game, of course, you play a different system. Before we go into more detail about the players, we would like to highlight two positions. Unfortunately, Varane is not yet available in FUTBIN, otherwise we would have put him in for Ruben Dias and then Kanté would also be full chem. So imagine the duo of central defenders Van Dijk and Varane... who stands a chance against them? And a hotly debated decision was actually Messi. Why? Let's get into the details.
Alisson Becker
Yes, you can definitely have a different opinion here. The Brazilian will probably not be the strongest GK in FIFA 22, as Ter Stegen, Neuer and Oblak have huge qualities. But here he just fitted in perfectly with Van Dijk.
Alphonso Davies
Very clear thing. 96 pace, he can defend even more on Sentinel. Davies is just the best left-back in the game... well, with Ferland Mendy. We look forward to many lost duels against these two.
Virgil van Dijk
Is he making a comeback in FIFA 22? Van Dijk was outstanding in FIFA 20, last year the slump came, normal central defenders just weren't the meta. But EA has announced that they will change that, so he will definitely be part of the best teams.
Raphael Varane
Disrespect for Dias. But Varane simply belongs in the best teams, the Portuguese with 61 pace is just not good enough. As I said, this center-back duo can get really damn strong.

Kyle Walker
Last year he was the central defender par excellence. This year, he'll move back to the right back position on most of the teams. Either way, Walker simply belongs on the best teams. His stats are world-class. Not just his, by the way, but Manchester City's in general.
Leon Goretzka
Gullit gang! All values are more than 80, can a midfielder be even better? This boy should be part of every team. And then that strong link to Davies, just so nice.

N'Golo Kanté
In addition to the box-to-box player Goretzka, the vacuum cleaner completes the central midfield. Defensive and offensive you have all options here, Kanté with his 90 rating and the strong link to Varane is just perfect.
Neymar
Neymar should play on CAM or LW. his 10 stars make him indispensable. And of course the link to Mbappé. But we've already said everything about PSG.
Lionel Messi
As I said, we weren't sure here. Is Messi the best RW in the game? We're not so sure about that yet, Salah has a lot more meta-potential. But who knows, the Argentine shouldn't be underestimated.
Cristiano Ronaldo

We are looking forward to the meta. Are headers getting stronger? Then we would have Ronaldo's time to shine. But otherwise, his stats are also solid. Together with Mbappé as a striker he will work perfectly, the two complement each other really well. We don't want to forget the perfect link to Fernandes here either, a good alternative in midfield.
Kylian Mbappé
As we have already shown, he is the best player in FIFA 22. And then next to Neymar, Ronaldo and Messi: Mbappé is so difficult to stop. Whoever has the French on the team can only win. Fact.

What would your best team for FIFA Ultimate Team look like? Would Messi be part of it? Feel free to let us know on Discord and we'll discuss it!

Are you looking for the best FIFA content? Whether it's FUT, Career Mode, News, Tips&Tricks, FIFA 22 or SBCs - with MyEarlyGame you're always one step ahead.